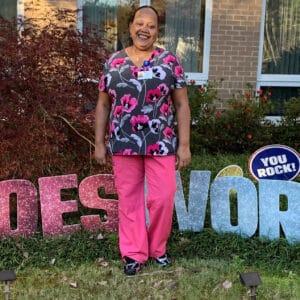 When Suze Berlanger moved to the United States from Haiti 20 years ago, she didn't know she would develop a passion for working in health care. She worked as a secretary in Haiti, but when she arrived in Georgia, she went to school to become a Certified Nursing Assistant (CNA).
"I became a CNA because of job security, but I feel in love with it," she said.
Prior to starting at A.G. Rhodes Wesley Woods nearly two years ago, Suze worked at another nursing home in Georgia for nearly 20 years, and she credits her English language skills to her experience there.
"When I came to the U.S. I could read and write English, but I learned to speak it while working in the nursing home," she said.
And now, Suze's excellent communication skills are reflected in the strong bonds she has with residents, especially those formed over the last several months when residents have been isolated from their family members.
"Suze has a genuine compassion for our elders," said Greg Health, Administrator. "She is incredibly attentive to their needs, which is especially critical during this time."
Although the last few months have been extremely challenging, COVID-19 seems to have strengthened Suze's commitment to the wellbeing of those she serves. Early on in the pandemic, she selflessly set aside her own fears and volunteered to work in the designated area of the building where residents are monitored or treated for COVID-19.
"I try to put myself in their place. I make them feel comfortable. I talk to them. I assure them everything is going to be ok," Suze said.
Not only does she comfort residents, but she encourages her fellow care partners and says they all must rely on each other.
"You have to work together. We have to have teamwork," she said. "When they are scared, I say, 'Let's trust God and do this together.'"
Suze leans heavily on her faith, and it guides her each day.
"Before I enter my job, I always pray," she said.
Suze says she is grateful for her residents, and she appreciates that they recognize how much she cares for them.
"When I enter their room or take care of my residents and I put a smile on their face, I can feel their appreciation," she said. "Things like that make me keep going—the way they show me love. I would like to thank my residents for the love they show me."
Suze also recognizes what a difficult time this is for the family members of residents—especially around the holidays—but she has an important message to share with them:
"I want them to know that we are family. They are my family," she said. "I know I'm not blood family, but we are family. I want them to know that we are trying to do the best we can for them."
More about Suze:
When she's not working, Suze enjoys spending time with her 16-year-old son and cooking for him.
December 2020