The Work of Skilled Dieticians Assists Senior Therapy And Rehabilitation
Posted on November 13, 2019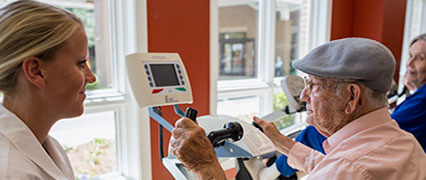 One important aspect of maintaining a cutting-edge senior therapy and rehabilitation center involves obtaining the services of skilled dieticians. These professionals assist long term care facilities in selecting nutritious and tasty menu items. Their work plays an integral part in the well-being of patients.
An Important Service
The maintenance of an attractive dining area benefits patients receiving long term care assistance in a number of ways. First, medical facilities today seek to serve nutritious, appealing food selections. Dieticians perform a vital role in creating well-balanced, healthy meal choices. They require the capability to prepare special dinners for certain patients consuming specific food items at a physician's direction.
Second, a well-maintained dining room enables residents at the facility to enjoy socializing with others during meals. This process often assists elderly patients in maintaining and cultivating important social skills. It helps instill a sense of camaraderie and inclusion in residents, too, contributing to their emotional well-being.
Customized Cuisine
Skilled dieticians possess the talent and training required to help people select customized diets. For example, Livleen Gill, a dietician in Maryland, gained extensive experience working in both hospital and skilled nursing facility settings prior to opening her own consulting service. During a recent magazine interview, she revealed that she applies her experience to help households in Maryland prepare healthier meals.
Mrs. Gill and other dieticians often assist patients seeking to implement weight loss or weight gain regimens. Part of the role of a dietician in a long term care setting involves aiding patients in obtaining excellent nutrition, while seeking to prevent unwanted weight changes. A dietician may help some long term care residents by supplying nutritious snacks at intervals during the day. Professionals in this field work closely with physicians and nurses to assist patients in maintaining their stamina and appetite. Long-term care facilities also rely upon dieticians to aid patients in adhering to special purpose diets, such as low-salt consumption diets or weight loss diets.
An Attractive Career Option
In some cases, food service workers or Certified Nursing Assistants who obtain work experience in long term care facilities ultimately decide to pursue educational courses allowing them to train as Registered Dieticians. The field holds appeal for people who enjoy caring for patients. It requires a thorough understanding of nutrition and food safety standards. Like nurses, a Registered Dietician may seek advanced Board Certifications.