As a result of the risks posed by the Coronavirus, visitors, including family and friends, are restricted from to A.G. Rhodes. Our visitors, volunteers, programs and activities are incredibly important components of our residents' daily lives so we're exploring creative ways to keep offering meaningful activities and opportunities to connect with the community while reducing the risk of exposure to illness.
Letters and
Words of Encouragement
One way you can help is by mailing notes, letters and cards of appreciation to our residents. You may mail them to the activities departments of one or all of our three locations listed below, and we will distribute them.
You can also send your notes and letters via email for quicker receipt. Activity staff will print your emails so be mindful of attachments. Please include which home, and if you are sending to an individual resident, be sure to specify a resident's name. Email: waystohelp@agrhodes.org.
Mail only—please do not drop off letters, cards or other items: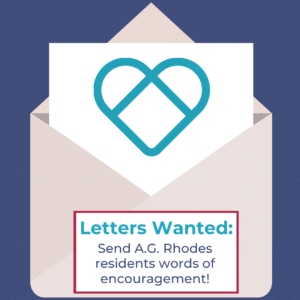 A.G. Rhodes Atlanta
Attn: Activities Department
350 Boulevard SE
Atlanta, GA 30312
A.G. Rhodes Cobb
Attn: Activities Department
900 Wylie Rd. SE
Marietta, GA 30067
A.G. Rhodes Wesley Woods
Attn: Activities Department
1819 Clifton Rd. NE
Atlanta, GA 30329
Activity Supplies
& Games
During this time, our residents are spending a lot of their day by themselves or with a limited number of other residents. There is need for additional activity supplies and games so residents have more options to help reduce boredom and loneliness. We have created Amazon Wish Lists for each home if you would like to send them something. Click on an Amazon wish list for one or more of our homes below and your order will go directly to Activity Staff who will distribute them…and then let the fun begin!
Atlanta location Amazon Wish List
Cobb location Amazon Wish List
Wesley Woods location Amazon Wish List
You can also purchase board games, jigsaw puzzles, and DVDs from any online retailer and have them shipped to us using the mailing addresses above, or you can make a donation to A.G. Rhodes and we will purchase items for this purpose.
Family Time
Craft Activities
Fresh flowers will brighten anyone's day so have flowers delivered to our homes using the mailing addresses above! Staff will distribute to residents who may need extra cheering up that day.
Words of Encouragement
for Staff
Our staff are working extremely hard under very difficult circumstances as they take care of our residents and keep them safe. We are so fortunate to have such dedicated, loving staff but even they could use some encouraging words or cards (or even flowers too!) to let them know their work is appreciated. Any cards or flowers to staff can be sent to the homes using the mailing addresses above.
According to the World Health Organization, it is safe to receive a package from areas where COVID-19 has been reported.
Visit www.agrhodes.org/coronavirus to see the latest updates on A.G. Rhodes' preparation and response to the Coronavirus.