COVID-19 continues to present unique challenges and while we still don't have volunteer opportunities inside our homes, our volunteer community has been so creative in engaging with and supporting elders and staff from a distance. Our visitors, volunteers, programs and activities are incredibly important components of our residents' daily lives and we continue to explore creative ways to keep offering meaningful activities and opportunities to connect with the community while reducing the risk of exposure to illness.
Letters, Cards, Pictures, Drawings, Videos
of Encouragement
One way you can help is by mailing letters and cards of appreciation to our residents. You may send them to the activities departments of one or all of our three locations listed below, and we will distribute them.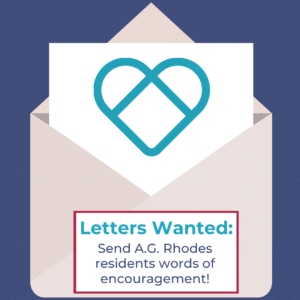 A.G. Rhodes Atlanta
Attn: Activities Department
350 Boulevard SE
Atlanta, GA 30312
A.G. Rhodes Cobb
Attn: Activities Department
900 Wylie Rd. SE
Marietta, GA 30067
A.G. Rhodes Wesley Woods
Attn: Activities Department
1819 Clifton Rd. NE
Atlanta, GA 30329
You can also email your encouraging pictures, letters and drawings virtually to waystohelp@agrhodes.org. We'd also love to see your videos so send us an email and we'll give you instructions on where to upload your video.
The A.G. Rhodes community of friends, families and supporters has been of immeasurable importance to us as we adapt to the changing circumstances presented by COVID-19, and we are so grateful for your messages of solidarity and support during this time. Many of our friends have also asked us how they can lend a helping hand in meeting these new challenges, and you can make a tax-deductible donation in support of our COVID-19 response efforts. Donations will fund enrichment programs for our residents as we adapt our programming to meet safety guidelines. It will also provide morale-boosting expressions of gratitude and support for our staff who continue to work diligently to provide extraordinary care. Simply click on the donate button and designate your gift to Coronavirus (COVID-19) Response.
A.G. Rhodes is an exempt organization as described in Section 501(c)(3) of the Internal Revenue Service Code. All donations are tax deductible and you will receive a donor acknowledgement letter.
Words of Encouragement
for Staff
Our staff are working extremely hard under very difficult circumstances as they take care of our residents and keep them safe. We are so fortunate to have such dedicated, loving staff but even they could use some encouraging words to let them know their work is appreciated. Please mail your letters of encouragement to the addresses above, or you can email them to waystohelp@agrhodes.org.
Resources for
Your Family
During these uncertain times, we have been so touched and encouraged by how the community is finding ways to help, stay connected, and be more reflective. The Life Story Worksheet below is a resource we use to learn more about new residents when they come to our homes. We would love to share it with you as a guide to learn more about your own older loved ones. Our elders have such rich histories and collective wisdom, and we always love hearing their stories. We hope you will take this opportunity to sit down (perhaps virtually) with someone and have the same enriching experience. And you may be surprised at what you discover!
The Life Story Worksheet is from www.legacyproject.org. Visit their site for more great ideas.