At A.G. Rhodes, we believe that our employees are our greatest asset. To ensure we attract and retain high-quality talent, we strive to maintain competitive salary and benefits packages for our employees, and reward outstanding job performance.
Employees are eligible for most benefits after 30 days of employment. Paid time off and holiday pay is available after 90 days of employment.
Each employee receives an employee handbook and other detailed information about our benefits packages, and below is a brief overview about a few of the benefits we offer.
Medical Insurance
Our medical plans provide insurance needed to protect our employees and their families. We make available medical insurance for employees working 30 or more hours per week. We cover over 80% of an employee's health insurance premium which is significantly more than other providers in our industry. Family insurance is also available and paid in part by the company.
Dental and Vision Insurance
Dental and vision insurance are available for employees working 30 or more hours per week. The plan premiums are paid solely by the employee and are payroll deducted.
Flexible Spending Accounts (FSAs)
We offer potential tax savings to employees with the option to participate in FSAs. Healthcare and Dependent Care FSAs, and Limited FSAs, are available for employees working 30 or more hours per week after one year of employment. The contributions are paid solely by the employee and are payroll deducted on a pre-tax basis.
Health Savings Account (HSAs)
An HSA is a tax-exempt savings account that can be used to pay for certain medical expenses. An HSA is only available for employees who are enrolled in a high-deductible health plan. The contributions you make to an HSA are not taxed, nor are withdrawals for qualified health care expenses.
Retirement Plan
All A.G. Rhodes employees who are 18 years or older are eligible to participate in our matching 403b retirement plan. The company will match 50% of contributions up to 4%. There is no waiting period to participate and employees are fully vested after six years.
The retirement plan was established in an effort to assist employees with their retirement as well as encourage savings and retirement planning. This plan allows employees to manage their investment strategies and well as roll over retirement funds from existing employers.
Life Insurance, Accidental Death & Dismemberment (AD&D), Short-term Disability
Basic amounts of life insurance, AD&D and short-term disability insurance are provided for employees after one year of service and who are working 30 or more hours per week. The premiums for these coverages are paid entirely by A.G. Rhodes. We also provide an opportunity for employees to have additional life insurance on themselves and their families under a voluntary program. These premiums are paid solely by the employee, and are payroll deducted.
Accident, Critical Illness, and Hospital Indemnity Insurance
We offer additional worksite benefits to help you protect your pay. Employees working 30 or more hours per week can enroll after 30 days of employment. Accident insurance pays you a lump sum benefit based on the type of injury you sustain from an accident. Critical illness pays a lump sum benefit if you are diagnosed with cancer, or suffer a stroke or heart attack. Hospital indemnity pays a per-day benefit based on a covered hospitalization.
Paid Time Off (PTO)
Paid Time Off (PTO) accrues upon your first day of employment and is subject to a maximum accrual of 144 hours. The PTO accrual rate is based on an employee's paid working hours and years of service.
Regular, full-time employees enjoy 10 paid holidays including New Year's Day, Martin Luther King Jr's Birthday, Easter, Memorial Day, Freedom Day, Independence Day, Labor Day, Thanksgiving Day, Christmas Day and your birthday. Part-time employees enjoy one paid holiday which is their birthday.
Behavioral Health Services & Life Assistance Program
A.G. Rhodes offers a mental health and well-being benefit to all employees, which covers up to six counseling visits paid for 100% by A.G. Rhodes. We also offer an Employee Assistance Program through Evernorth Behavioral Health, called Life Assistance Program. The program is completely confidential and provides employees and their family members with support services for a variety of issues associated with daily living.
Training and Educational Assistance
We provide periodic in-house training programs for qualified employees. In addition, regular full-time employees may be considered to attend training programs that enable them to improve their job proficiency or that are beneficial to the company. Financial assistance for tuition, books and supplies for such training programs may be provided.
A.G. Rhodes Academy
We make learning more convenient for employees with access to our user-friendly learning platform that can be used from a desktop or mobile device. The Academy has over 1,650 courses and free state-approved CEUs.
Scholarships
We offer two scholarship opportunities for employees: The Nursing Education Scholarship which is open to full-time A.G. Rhodes employees pursuing LPN, RN or RN-BS programs; and the High School Graduate Scholarship open to the child or grandchild of a full-time A.G. Rhodes employee. Learn more about the eligibility requirements and how to apply.
Pet Insurance
We understand how important your pets are, so we offer pet insurance at a discounted group rate.
Live Well Wellness & Rewards Program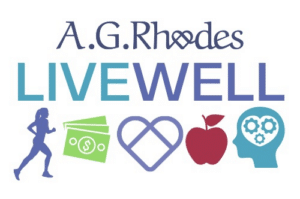 Our Live Well Wellness & Rewards Program is an employee wellness initiative to encourage our workforce to live well in various aspects of their lives including physical health, mental health and financial health. Through friendly competitions, morale-boosting wellness events and opportunities, informational sessions, and more, this program is designed to help you make healthy lifestyle choices, reduce stress, and enhance your sense of value and accomplishment.