2019 Living Well Luncheon
The Living Well Luncheon will be held on Thursday, February 21, 2019. Dr. John Zeisel, President of the I'm Still Here Foundation and Hearthstone Alzheimer Care, Ltd., will be the guest speaker. More details will be posted soon.
The Living Well Luncheon is hosted by the A.G. Rhodes Board of Advisors, which is dedicated to providing a high-quality standard of care for Atlanta-area seniors. 
Proceeds from the luncheon support the Margaret Boyd Perdue Fund, which is used to improve the well-being of the patients and residents at the A.G. Rhodes Homes.
About the 2017 Living Well Luncheon
Approximately 250 people attended the third annual Living Well Luncheon on February 23, 2017. Dr. G. Allen Power was the guest speaker. Click here to listen to his remarks.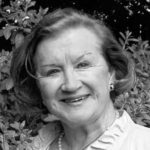 This year's luncheon honored the late Jane C. Schweers, a longtime member of the A.G. Rhodes Board of Advisors and Board of Trustees, and a beloved friend to many. Click here to watch a tribute video that honored Jane at the luncheon.
Click here to see pictures from the event.
Thank you to our 2017 event sponsors:
Legacy Sponsor: 
Morrison Community Living

Mission Sponsors: 
Integro Benefits
Pruitt Health
SunTrust
Impact Sponsors:
Accurate Healthcare
David & Sissy Perdue
Friends of Jane C. Schweers
Georgia Natural Gas
Medline
MobilexUSA
Vision Sponsors:
Ansley Real Estate
Arnall Golden Gregory LLP
CornerCap
Lockton
Mauldin & Jenkins
Progressive Medical Concepts
Regency SouthernCare
TIS Insurance Services