Who needs short-term
recovery care?
Short-term recovery patients may stay somewhere like A.G. Rhodes because they need skilled nursing services, and therapy and rehabilitation, for the duration of their recovery following surgery, an injury or illness.
There are a number of scenarios—such as a stroke, broken bone or hip surgery—in which older adults might need short-term recovery before transitioning home. A nursing home like A.G. Rhodes provides seniors with the 24/7 care they need, allowing them to stay safe while they recover their strength.
During their stay, short-term patients will undergo therapy and rehabilitation, and at the end of their stay, they will return home and go back to living independently, or with some assistance. Additionally, some patients may return to the nursing home for outpatient therapy.
A short-term stay in a place that offers inpatient and outpatient therapy and rehabilitation services, such as A.G. Rhodes, can give seniors the support they need as they heal and regain their strength. Having help available 24/7 for a few weeks to a few months can speed healing and improve long-term recovery.
Best of Georgia Winner
We are proud that A.G. Rhodes has been named a Georgia Business Journal 2021 Best of Georgia winner in the Transitional & Rehab Facilities category. Congratulations to our Therapy & Rehabilitation Services staff! It's a true testament to the quality services we provide along the continuum of care.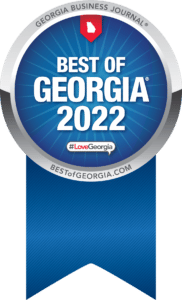 Admission to a nursing home for short-term recovery will require the recommendation of a physician. See our Admissions page for more information about the admissions process at A.G. Rhodes.
Visit our Financial Information page to learn about the cost and payment of short-term recovery, therapy and rehabilitation services and long-term care.