What is
long-term Senior care?
Long-term senior care includes a range of services that you or your loved one may need to meet personal care needs. Most long-term care is not medical care, but rather assistance with the basic personal tasks of everyday life, sometimes called Activities of Daily Living (ADL), such as:
Bathing
Dressing
Using the toilet
Transferring (to or from bed or chair)
Caring for incontinence
Eating
Long-term care may also include assistance with everyday tasks, sometimes called Instrumental Activities of Daily Living (IADL) including:
Housework
Managing money
Taking medication
Preparing and cleaning up after meals
Shopping
Using the telephone or other communication devices
Responding to emergency alerts such as fire alarms
Best of Georgia Winner
We are proud that A.G. Rhodes has been named a Georgia Business Journal 2021 Best of Georgia winner in the Transitional & Rehab Facilities category. Congratulations to our Therapy & Rehabilitation Services staff! It's a true testament to the quality services we provide along the continuum of care.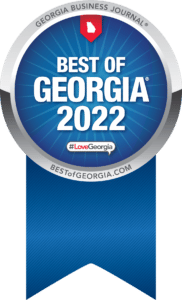 What's different about long-term care at A.G. Rhodes versus other types of long-term care facilities or agencies?
While there are many types of facilities and agencies that offer long-term care services such as assisted living, continuum of care facilities, or home care agencies, the A.G. Rhodes homes are skilled nursing facilities, which provide a comprehensive range of long-term care services, including nursing care and 24-hour supervision.
Moving to a skilled nursing facility—commonly known as a nursing home—is often considered the safest choice for those who need help with most of their ADL and IADL, and who require 24/7 care that they can't get at home.