The Songs for Seniors program within our Music Therapy Department promotes the incorporation of music into many areas of the day including rehabilitation therapy, organized leisure-time activities and personal time.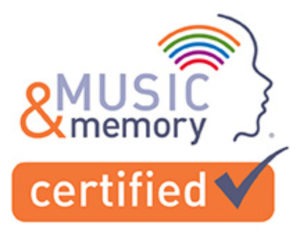 A key component of the program is the use of music devices that include songs tailored for individual residents to enjoy. Staff have been trained under the MUSIC & MEMORY℠ Certification Program to create personalized music playlists that are downloaded onto iPods/mp3 players. They facilitate sessions with individual residents who listen to their favorite songs and musical preferences. As a result, residents experience positive reactions while recalling fond pastimes, and they are more alert and engaged throughout the day.
Many health benefits are associated with music, especially for seniors who struggle with dementia and other cognitive and physical challenges. Music is therapeutic and helps people to reconnect with the world. The longest lasting memories that people have are often musical memories, and listening to familiar music helps people recall experiences.
You can support the Songs for Seniors program and help bring personalized music to the residents at A.G. Rhodes.
Donate your old iPods. We'll reprogram your old iPods for our residents to use.
Donate iTunes cards. Even a few dollars worth of iTunes can go a long way to help us purchase our residents' favorite music for them to enjoy whenever they'd like.
(Email MT@agrhodes.org to donate iPods or iTunes cards)
Make a donation to the program. Funds raised support the Music Therapy Department and help cover the costs of various items including music devices, downloadable music and headsets, as well as staff training. Click here to donate.
See the Songs for Seniors program featured in a local news segment.