We are grateful for our dedicated volunteers who enrich the lives of the residents and patients who stay in the A.G. Rhodes homes. Last fiscal year, volunteers served more than 10,000 hours filling more than 4,400 volunteer opportunities at A.G. Rhodes.
Throughout the month of April, and especially during National Volunteer Week April 23-29, 2017, we held volunteer recognition events, and celebrated our special volunteers who make a lasting difference in the lives of seniors in our community. Click the links below to see some highlights.
Volunteer Spotlight: Adrienne Polite
Partnership with Hands On Atlanta Cultivates Volunteer Leaders
Mocha Moms Volunteer at A.G. Rhodes
See pictures of volunteer highlights on Facebook
Learn about volunteer opportunities at A.G. Rhodes
Interested in volunteering at A.G. Rhodes? Click here to become a volunteer.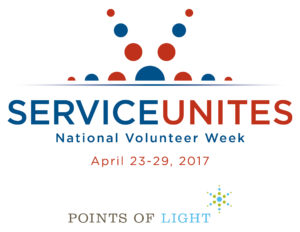 National Volunteer Week, brought to you by Points of Light since 1974, is about inspiring, recognizing and encouraging people to seek out imaginative ways to engage in their communities.