From the Alzheimer's Foundation of America to thousands of senior homes and centers throughout the country, music therapy continues to demonstrate what a valuable resource and tool it can be in the field of senior care. At A.G. Rhodes, we offer several innovative programs to help our residents live comfortably and allow social and stimulating therapies simultaneously. In addition to our music therapy program, initiatives like Songs for Seniors are making a difference in the lives of the older adults, especially for those who suffer from conditions like Alzheimer's disease or dementia. Through music therapy and music programs like this, seniors can experience many benefits that can positively affect their quality of life.
Why Music Therapy?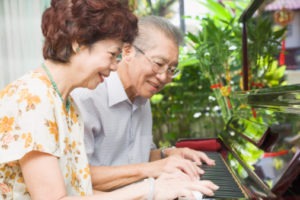 Music therapy was first referenced in 1789 in an article in the Columbia Magazine titled "Music Physically Considered". Since that time, research articles have explored music's influence in a variety of populations and effecting numerous positive outcomes. In the field of geriatrics, music therapy research has focused on the facilitation of movement, increase in motivation to participate in treatment and it's use as an outlet for creative expression. The compelling nature of these research finding has enabled the field of music therapy, and the effects of music, to expand and touch the lives of many individuals. As a result, many senior care organizations across the nation, such as A.G. Rhodes, are adopting music therapy programs to share with the seniors in their care.
The Benefits of Music Therapy
Over the years, many people realize that music is a mood changer. We listen to it to sooth us on our commute after a rough day. We also listen when we want a boost for our fitness routines. Seniors can also benefit from the mood-enhancing power of music. Today, music therapists employ this therapy to create both soothing and stimulating treatments. Therapists find that music therapy fosters improved socialization, memory recall, and self-expression among seniors.
Some key benefits of music therapy include its power to stimulate verbal and social skills, improve memory recall, and reduce stress and anxiety. Music therapy patients often report that they "feel better" after a session involving singing or even passive listening. For patients who have dementia, engaging in music–especially music that was enjoyed during their early years–can help them recall memories in a way that other therapies may not.
Music Therapy and Music Activities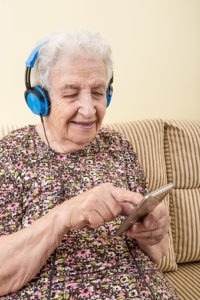 In addition to a full-time music therapy program, A.G. Rhodes offers a music listening program certified through MUSIC & MEMORY℠ called Songs for Seniors. This innovative program is offered in only a small number of facilities in the Atlanta area. According to the MUSIC & MEMORY℠ guidelines, the music therapist and his staff create tailored music playlists for seniors that can be used during directed "sessions" as well as for leisure time. Two of the benefits of this music program are improved mood throughout the day, and enhanced relationships among staff, participants and families. This program has been successfully used for seniors who suffer from cognitive problems as well as physical ones. In fact, for seniors who continue to remain healthy and active, music has been shown to improve residents' overall well-being by supporting their good mood and complementing the activities they attend.
For years, nursing homes have been inviting musicians such as pianists, choirs and youth singers to visit and perform for seniors. What was always an enjoyable pastime, in the hands of a certified music therapist, is also regarded as a therapeutic tool that offers clinical benefits for many seniors. Moreover, studies suggest that music therapy and music listening programs, such as Songs for Seniors, are most effective when the music used is that which inspires the greatest connection from an individual senior. By playing music that has historically been near and dear to the senior's heart, music therapists and senior caregivers have an opportunity to enhance the lives in their care in so many wonderful ways.