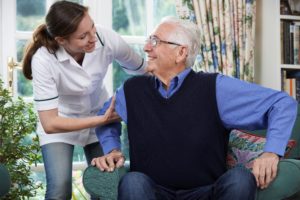 You may hear people refer to skilled nursing care and long-term care interchangeably, but it's important to understand the distinction. While there are many types of facilities and agencies that offer long-term care services such as assisted living, continuum of care facilities or home care agencies; the A.G. Rhodes homes are skilled nursing facilities, commonly referred to as nursing homes, which provide a comprehensive range of long-term care services, including nursing care and 24-hour supervision.
Long-Term Care
Your loved one may need extra help with their activities of daily living to ensure they remain safe, healthy and happy. If that's the situation, long-term care services may be necessary.
These types of services often involve assistance with personal hygiene, such as bathing, getting dressed and grooming. Long-term care professionals provide assistance with using the toilet, getting into and out of bed and chairs, and bathing.
In addition to lending a helping hand with personal care needs, long-term care providers may also assist with other everyday tasks such as housework, chores and shopping. Caregivers may also help seniors manage their finances, communications, and they may provide companionship and social interaction.
There are many older people who are in relatively good health but just need a little extra assistance with the above activities. For these people, long-term care services in a setting such as an assisted living community may be an adequate solution.
Skilled Nursing Care
Although many long-term care specialists are trained and can offer compassionate and competent care, they may not be able to offer the level of care provided by a skilled nursing facility, staffed 24/7 by medical professionals trained to deal with health issues that could potentially arise.
At A.G. Rhodes, we provide long-term care services, but also provide the added safety net afforded by round-the-clock skilled nursing care. This is ideal for many families who can rest easy knowing that their loved one's personal needs are being cared for by friendly, helpful and trained professionals who can also quickly address potential medical emergencies.
Other Types of Care Offered by A.G. Rhodes
In addition to offering long-term care, our Atlanta, Cobb and Wesley Woods skilled nursing facilities also provide short-term recovery, and inpatient and outpatient therapy and rehabilitation services. Many of the skills that enable our care providers to offer exceptional skilled nursing care transfer seamlessly to recovery, therapy and rehabilitation care, and we're proud to offer the highest caliber of compassionate assistance delivered by skilled, certified professionals.
If you would like to learn more about our services or tour one of our beautiful facilities to meet our friendly staff of skilled nursing and rehabilitation professionals, please contact us by calling 877-918-6413 or visiting our website, https://www.agrhodes.org/, to schedule a tour!