We celebrate our dedicated volunteers who enrich the lives of the residents and patients who stay in the A.G. Rhodes homes.
Throughout the month of April, and especially during National Volunteer Week April 23-29, 2017, we will feature special volunteers who make a lasting difference in the lives of seniors in our community.
Follow volunteer highlights on Facebook.
Learn about volunteer opportunities at A.G. Rhodes. 
Interested in volunteering at A.G. Rhodes? Click here to become a volunteer.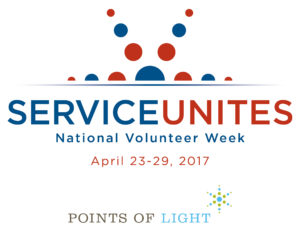 National Volunteer Week, brought to you by Points of Light since 1974, is about inspiring, recognizing and encouraging people to seek out imaginative ways to engage in their communities.