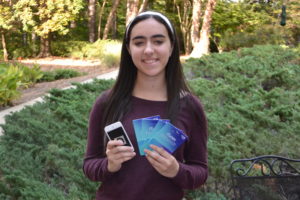 A junior from Kennesaw Mountain High School Academy of Math, Science and Technology helped to raise more than $250 worth of iPods and iTunes gift cards to benefit nursing home residents at A.G. Rhodes Health & Rehab's Cobb location in Marietta, Georgia.
Erin Morrow merged her interest in neuroscience and her love of music when, as part of a community service project for school, she organized a donation drive to collect iPods and iTunes gift cards for A.G. Rhodes' Songs for Seniors program within its Music Therapy department. Songs for Seniors promotes the incorporation of music into many areas of the day including rehabilitation therapy, organized leisure-time activities and personal time. A key component of the program is the use of music devices that include songs tailored for individual residents to enjoy.
Morrow initiated the project after learning that A.G. Rhodes is certified through the Music & Memory program, which trains nursing home staff and other caregivers to create and administer personalized music playlists.
"I knew I wanted to work in neuroscience, which has always captured my attention, and while searching for possible opportunities, I came across the Music & Memory website," says Morrow. "After reading about their initiative and finding out that donation drives could help contribute to a local home's therapy program, I was sold. I located a list of participating homes in my area, and A.G. Rhodes seemed like the perfect fit for me in terms of its location, its environment, and the structure of its music therapy program."
After watching several videos on the Music & Memory website, Morrow was inspired by the impact of music in the lives of the seniors featured. Music is especially beneficial for people struggling with dementia and other cognitive and physical challenges because it helps them to reconnect with the world through music-triggered memories.
"Their faces would light up, their eyes would widen, and some would even cry with happiness. That touched me a lot," says Morrow.
Morrow is a music-lover herself, and recognizes the important role it plays, particularly for older adults.
"Music can help people express their thoughts and emotions in an intimate way, and in older adults, these thoughts and emotions can sometimes be concealed or suppressed for varying reasons," says Morrow. "I think the personal connection that music provides the listener helps them to open up and become more honest with themselves and others. This can be very therapeutic, I think."
Morrow says she thinks that this community service project appealed to other students and compelled them to donate because most people have a common interest in music.
"I think that the shared respect and appreciation that both the students and the recipients of the donations have for music really motivated students to donate," says Morrow. "I think that people love music and its power, and are often more than willing to share that with others."
Morrow says this project helped her better appreciate the value of community service and the impact of giving back. The items that she and her classmates donated will enable more residents at A.G. Rhodes to have designated iPods and a wider assortment of music to choose from.
"I'm so grateful that, over the last few months, I've been able to contribute to such a beneficial program," says Morrow.
Published December 12, 2016