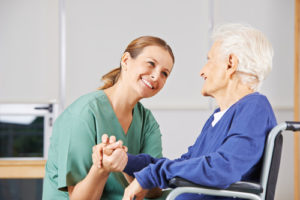 As we age, we may move a little slower, need extra help, and take longer to heal after an injury or sickness. If you have an aging friend or family member who has recently suffered an illness or undergone surgery, you may have seen firsthand the impact that age and slowed function can have on recovery time, as well as the importance of having a reliable caregiver at their side to assist them during the recovery process.
Caring for a recovering loved one may feel impossible to manage if you're juggling a full-time job, a family of your own and social engagements. If this sounds like your life, short-term senior care may be just what the doctor ordered.
What Is Short-Term Care?
Almost everyone will require a hospital visit for a surgery, illness or injury at some point in their lives. This is especially true for seniors who tend to lack the resilience and stability they had in their youth. A senior discharged after surgery or medical treatment can be in recovery longer and may require more hands-on care and supervision to regain any lost or degraded mobility.
When a friend or family member cannot feasibly provide the level of care an aging adult needs, short- term care programs come into play. A short-term recovery program provides either inpatient or outpatient supervision and assistance for seniors on the road to recovery. Often, these programs offer 24/7 assistance with activities of daily living, as well as therapeutic activities to help people recover their strength and mobility. Just a few weeks or months of constant care can speed your loved one's healing and improve their ability to recover from future ailments.
How Can My Loved One Benefit?
First and foremost, short-term care ensures your loved one receives the appropriate attention and assistance they need to recover after a sickness or medical procedure. Whether your friend or family member has caught pneumonia or broken a bone, short-term programs provide comprehensive, 24/7 care while preventing you from stressing over how you'll meet your loved one's needs.
In short-term care, a professional caregiver may provide everything from delicious, healthy meals to physical therapy so your aging friend or family member can recover more quickly. Your loved one doesn't even have to live in a care community during their short-term care program. While inpatient care is an option, seniors who prefer to recover in the comfort of their own homes can do so with outpatient caregivers.
Short-Term Recovery Services in Atlanta, GA
When your grandparent, parent, spouse or friend comes home from a visit to the hospital, your highest priority is making sure they recover from their medical procedure or illness safely and as quickly as possible. Sometimes, though, it just isn't as easy as it's made out to be. You may feel like there are never enough hours in the day to provide the level of care they need and deserve while still attending to your own needs.
If your loved one is in need of 24/7 care and rehabilitation in the Atlanta area, A.G. Rhodes Health & Rehab can help. Our compassionate, knowledgeable caregivers provide only the best attention and assistance to our residents and clients, ensuring they recover faster and stay healthy longer. To learn more about our short-term care program, contact us online or call 877-918-6413 today!