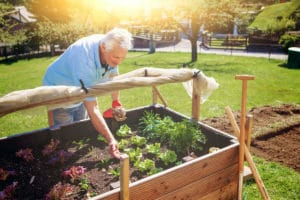 This region of Georgia offers a wonderful location for gardening! The Peach State has long enjoyed a reputation as a premiere spot for growing lovely flowers, fruits, and vegetables. Marietta and Atlanta both offer mild climates with many days of sunshine throughout the year.
Today, the therapeutic benefits of caring for plants have gained wider recognition. Many people overcoming the harmful impacts of illnesses, accidents, or chronic health conditions find immense satisfaction in maintaining potted plants, terrariums, or even full garden plots. This activity sometimes proves especially beneficial for seniors because it offers them an incentive to obtain mild exercise and social engagement in a fun environment. A.G. Rhodes Health & Rehab maintains a Horticultural Therapy Program focusing on the needs of seniors.
Horticultural Therapy
Incorporating "horticultural therapy" into a program of senior therapy and rehabilitation offers some important benefits. The advantages of using gardening in this way have recently won supporters in numerous locations, including the British Isle. This month, a newspaper in the United Kingdom reported about an innovative program maintained by the Sydenham Garden Charity Trust in Lewisham outside London, England.
Located on slightly less than a full acre, the charitable organization maintains a garden, a small nature reserve, and several activity rooms. A team of volunteers, many of whom include former patients, work in a support role to assist the maintenance of the garden. The Trust's staff undertakes weekly therapeutic gardening sessions with patients managing depression and other mental illnesses. This initiative has assisted a number of patients, while also enabling them to make friends, reduce stress, and develop a new, rewarding hobby.
Gardening as a Helpful Therapy
What benefits does horticultural therapy offer? In some cases, this activity furnishes both valuable physical activity and improved social engagement. Patients sometimes obtain one (or more) of these advantages:
Improved mobility and coordination;
Emotional support;
A reduction in stress levels;
Beneficial social interaction;
Horticultural and landscaping skills.
In the case of the Syndenham Garden, researchers documented measurable improvements in patient well being (using the Warwick-Edinburgh scale) during a one-year treatment period in the majority of patients.
Encouraging Seniors to Garden
Many seniors in Georgia enjoy gardening. Horticultural therapy offers them a way to keep learning, and to share their knowledge with others. It holds numerous benefits for some patients!