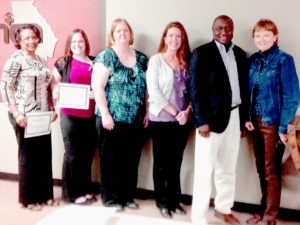 A.G. Rhodes of Atlanta was recently recognized by Alliant Quality for its high quality of health care, and was chosen as a "peer coach" for other nursing homes. As a peer coach, staff from A.G. Rhodes will share successes and lessons learned with other nursing homes to ultimately help improve nursing care across the nation.
Alliant Quality is the Medicare Quality Innovation Network – Quality Improvement Organization (QIN-QIO) for Georgia. A.G. Rhodes of Atlanta was chosen because it's a high-performing nursing home ranked in the top 10 percent of the National Nursing Home Quality Composite Measure, which is provided by the Centers for Medicare & Medicaid Services.
Peer Coaches represent diverse levels of nursing home staff, both administrative and direct care. They provide best-practice support for other nursing homes atlanta participating in the collaborative, and assist the QIN-QIO to instill quality improvement methodologies. Peer coaches, along with the QIN-QIO, foster the creation of quality-centric nursing homes among their peer nursing homes.
"We are very proud of our dedicated employees and their focus on resident-centered care," said Deke Cateau, A.G. Rhodes of Atlanta Administrator. "We are committed to delivering the highest quality service, and we are eager to share our best practices with partners across the country."