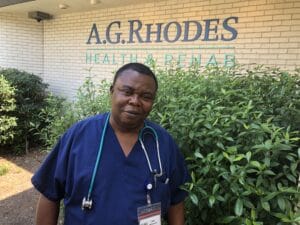 When Andy Akobundu immigrated to the United States from Nigeria in 1982, he aspired to become a doctor, but it just wasn't in the cards for him.
"My parents couldn't afford it," he said.
Additionally, given his recent immigration status, it would have been a lengthy process to enter the medical field. Engineering, however, was a different story. The field was booming and looking for new talent.
"Engineering was the easiest career at my disposal," he said.
Andy went to Alabama A&M University where he graduated summa cum laude with a degree in civil engineering, and he was immediately recruited to work for Lockheed Martin. In 1994—after working there for nine years—Andy was among numerous colleagues who were laid off when many of the government's contracts with defense companies like Lockheed were cancelled.
Andy used the opportunity to pursue a career in the medical field—which he was most interested in all along. He wanted to go to nursing school, but not before he received training to become a Certified Nursing Assistant (CNA). He said it was important to work his way up.
"I wanted to have a baseline," Andy said.
Not everyone understood Andy's decision to completely change careers. "My colleagues in engineering were laughing," he said.
But Andy didn't let that stop him. After working as a CNA, he attended Albany Technical School in Georgia, where he received additional education to become a Licensed Practical Nurse (LPN).
Andy has been working in long-term care for nearly 25 years now, the last 14 of which have been at A.G. Rhodes' Atlanta location where he serves at the Assistant Director of Nursing (ADON). He describes his role at A.G. Rhodes as, "Being a servant to the nurses." He says the best part of the job is, "Making a difference in someone's life. It's not about the money. When I do something, I like to see the product of my hard work."
Not long ago, Andy decided he wanted to further his education, and he went through an accelerated nursing program. At the age of 62, he became a Registered Nurse (RN).
Andy joked, "Some friends said, 'Why are you going to punish yourself?'" But Andy didn't see it that way, rather he's always pushed himself to do more—especially when it comes to education—and it's a mindset that he's instilled in his family, too. One reason he waited to become an RN is because his wife was going through school to earn her bachelor's of science in nursing (BSN), and then later her Nurse Practitioner (NP) license. Their children have also taken an interest in the medical field. Their oldest daughter is a pharmacist, their middle son is studying to be a medical doctor, and their youngest son is studying to be an anesthesiologist.
Andy is passionate about his job, and he's also passionate about his faith. He's a devout Jehovah's Witness and says that leaning on his faith is what gets him through the challenges of the job. He also leans on open and honest communication and believes that if you have an issue or challenge with a coworker, the best thing you can do is talk about it and work it out.
"I don't want to carry issues from work and enter my household," he said, "and once we discuss it, it's done."
When asked what qualities are important in long-term care, Andy recognizes several: "Humility, teamwork, empathy, understanding and being a good communicator, which involves listening first before you react," he said.
Kristie Davis, Administrator at A.G. Rhodes Atlanta, says she's always been impressed with Andy's commitment to the job.
"Andy has an incredible work ethic," she said. "In all that he does, he has the well-being of our residents in mind. He is a driven individual, and he inspires others to do their best. We appreciate him very much."
October 2019