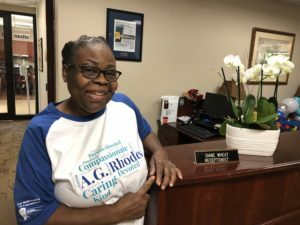 When you walk in the doors of the A.G. Rhodes Atlanta location, you're greeted with a big smile and a warm welcome by Atlanta native, Diane Wheat.
Wheat is now the receptionist at A.G. Rhodes, but started as a CNA here 38 years ago. Before that, she worked at the Grady Eye Clinic.
"When I was little, I knew that I was going to be in nursing. It is something that I have always been passionate about," stated Wheat.
When asked to describe what she currently does at A.G. Rhodes, she said she's somewhat of a gatekeeper since she's the first person people see.
"Each day, I'm in the front greeting residents' family and friends and helping them with what they need help with," she said. "The best part about my job is when the residents come down, and I help them with the areas that I can help. If I can't, I will direct them to the person who can. I also love to communicate with their families."
When asked what qualities it takes to work in this field, Wheat acknowledged that you must have compassion, patience, love and concern.
"My spiritual faith is what keeps me going, but it also helps that I am passionate about what I do and the people that I serve here at A.G. Rhodes," she said.
When A.G. Rhodes opened its Cobb and Wesley Woods homes in the 1990s, Wheat briefly worked at those locations to help train staff. She's held an assortment of jobs during her time with the organization including CNA, team leader, and now receptionist where she has been for over 15 years.
Kristie Davis, Administrator at A.G. Rhodes of Atlanta, said Wheat is the perfect first person that people want to see when they come to A.G. Rhodes.
"Diane is the heart of our building, and her caring spirit is incredibly welcoming," she said. "I still remember being nervous coming to A.G. Rhodes 12 years ago for my first day, but Diane greeted me with such a warm smile. She puts people at ease and gives a wonderful first impression of A.G. Rhodes."
In her spare time, Diane enjoys spending time with her family, especially her grandchildren. She also enjoys going to church, going for walks, eating out and travelling.
Spotlight by Riley Greene
June 3, 2019