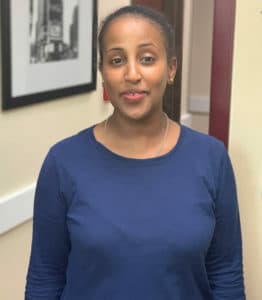 Nearly 12 years ago, Helen Debela decided to move from her homeland of Ethiopia to pursue a career in the United States. She has been a part of the A.G. Rhodes family for five years working at our Wesley Woods Home. Helen went to school to become a Licensed Practical Nurse (LPN) and came to A.G. Rhodes for her training. Lucky for us, she loved it so much here that she decided to stay.
When asked what made her choose to start her career in the long-term care industry, Helen said, "I love the medical field and helping others. Every day my job challenges me and presents me with something new to learn. At the same time, I'm able to help others and hopefully make a positive impact in someone else's life."
With four little boys at home, Helen has a lot to juggle. She said it is her faith and a healthy relationship with God that inspires her every day to keep going and pursue her passions.
"This is my way of serving and getting in touch with God. Seeing the smiles on residents faces and the joy I can bring them is so rewarding," she said. "The relationships I'm able to make with the residents and their families makes coming to work every day easy and enjoyable."
One of Helen's favorite parts about her job is the conversations she's able to have with the residents.
"It's so nice to be able to learn from the elders and hear their stories. They have so much wisdom and life experience and are more than willing to share! It truly never gets old."
Helen recognizes that the job can be very challenging at times but also exceedingly gratifying.
"The residents and their families rely on you and put so much trust in you to take care of their loved ones. Coming in every day and being able to help them and be there for them is very rewarding. It's a feeling I'll never stop enjoying."
Helen has four young boys at home ages 8, 6, 4 and eight months. When she's not working, she stays very busy taking them to the park, playing outside, and enjoying fun activities around the city. She is an active member at her church and enjoys going to service every Sunday with her family.
This month's employee spotlight was written by Jules Bryan, a student at Georgia State University.
May 1, 2019