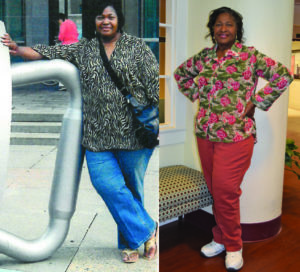 Last May, Carolyn Ford, the Dietary Manager at A.G. Rhodes of Cobb, knew it was time to make a change with her health.
"Each time I went to the closet, and I put on something that wouldn't button up, I thought, 'I just put on this dress last month.' That's when I said, 'I need to do something.'"
At the recommendation of a friend, Carolyn started attending a free support group for people who struggle with food and weight. At her first meeting, she stepped on the scale and was shocked to see that she was at her heaviest weight, 298 pounds. But after ten months, Carolyn has lost more than 100 pounds.
"I've lost a whole person," she says.
It wasn't easy, especially because Carolyn is around food all day. In addition to working for more than 30 years in the dietary department at A.G. Rhodes, Carolyn also caters events. Food is her livelihood, yet she's managed to control her cravings by cutting out sugar, flour and processed foods from her diet, and she only drinks water.
"I have challenges when I'm catering on the outside, or have church functions, but I bring what I'm going to eat with me, and I try and incorporate something healthy into what I cook for them," she says. "It's a lifestyle change."
Carolyn also weighs, measures and tracks all of her food, which is something she's done for years for the residents she serves, but she avoided doing for herself.
"The scale wasn't my friend: the scale I weighed on, and the scale to weigh food on. I could tell the residents that I have to weigh their food, but I couldn't tell myself. So now I can tell myself—I need to weigh and measure my food as well."
Carolyn, who has lost weight before but gained it back, says this time is different. She attends weekly meetings for accountability, and she's learned not to use food as a coping mechanism. The program she follows is faith-based, and prayer has been an important part of her success.
"I keep God in all of my activities," she says.
Carolyn now incorporates exercise into her daily schedule, which she says gives her more energy. Without the extra weight, Carolyn's physical ailments have also improved considerably.
"My knees don't hurt anymore, and my back doesn't hurt anymore," she says.
Additionally, Carolyn's blood pressure, which used to be high, is now normal.
Carolyn's coworkers have noticed more than just the physical change.
"I'm happier now," Carolyn says. "Employees say, 'You're always beaming, you're always smiling, you're looking good today.' It makes me feel good."
For more information about the program that helped Carolyn lose more than 100 pounds, visit www.foodaddicts.org.