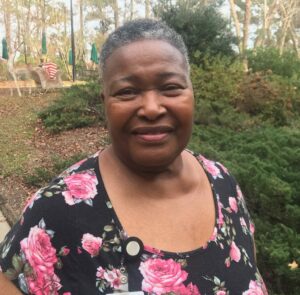 When Carolyn Ford started her first day of work as a dietary aide at A.G. Rhodes Atlanta more than 39 years ago, the cook didn't show up and the dietary manager was off that day. With less than an hour on the job, Carolyn found herself cooking for all the residents. She made meatloaf, mashed potatoes, turnip greens and corn bread. The residents loved it.
"I was asked to become the morning cook on my very first day," Carolyn said.
What she thought would be a temporary job has become her work home for nearly four decades.
"I love it. I love all the residents and staff."
Now, Carolyn is the Assistant Dietary Manager at A.G. Rhodes Cobb, where she's been since that location opened in 1992. The dietary department is now managed by Unidine, which specializes in dining services for senior living.
Carolyn says her favorite part of her job is interacting with the residents. She likes to learn about the foods they enjoy eating and cooking, and she tries to replicate recipes that residents give her.
"I'll put it on the menu and highlight their name," she said. "They are excited that everyone gets to taste it."
Carolyn will also get recipes from the resident council, which picks a new food each month that residents want to try. One month, Empanadas were on the menu, and despite never tackling that dish before, Carolyn nailed it.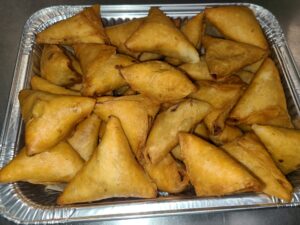 "If I don't know how to make it, I'm going to study a recipe and figure it out," she said. "My dad always told me, 'If you don't do it right, don't do it all.'"
Carolyn always gets it right. Residents and staff constantly compliment her food, and they make special requests. One of the most requested treats is called Chocolate Lust, and it's been a favorite at A.G. Rhodes for 30 years.
"They always ask for Chocolate Lust," she said.
Carolyn isn't just passionate about cooking; she's committed to it. When Snowmageddon paralyzed metro Atlanta several years ago, Carolyn slept at A.G. Rhodes for an entire week to ensure there wasn't a disruption in meal service for the residents.
"I made sure they had a hot meal when they got up," she said. "In this line of work, it's rain, shine, sleet or snow."
Carolyn has merged her passion and professional life, and even in her time away from A.G. Rhodes, she cooks. She caters events, cooks holiday meals, bakes cakes for people, and more.
"Cooking has always been in my blood."
Chocolate Lust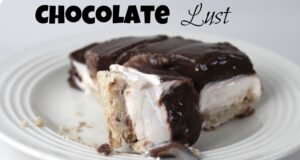 A favorite treat at A.G. Rhodes
Crust Ingredients:
2 sticks of butter softened
3 cups plain flour
1 cup chop pecans
Mix ingredients together and press in pan. Bake at 350 degrees for about 15 minutes or until brown. Let the crust cool before adding the topping.
Topping ingredients:
3 packages of 8 oz cream cheese
3 cups of white powdered sugar
Instant chocolate pudding (Use the larger package and prepare according to directions)
1 container cool whip
Mix cream cheese and powdered sugar together in mixer. Spread over crust. Then, put chocolate pudding over the cream cheese mixture. Last, put cool whip over the pudding. Put dessert in the refrigerator overnight and serve the next day. Enjoy.
December 2021