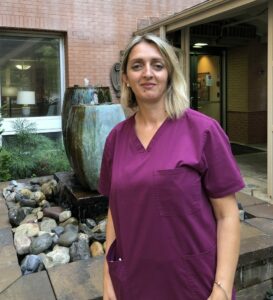 Although Vjollca Emini has only been at A.G. Rhodes Cobb since January when she began working in the Environmental Services Department, Administrator Melanie Haders says that her work ethic and drive have earned her recognition for this month's employee spotlight.
"Vjollca came on board shortly before the pandemic hit so you could say that she joined us at one of our industry's most challenging times in history," said Melanie. "Although this is her first job in long-term care, she has demonstrated extraordinary commitment, and has been an incredible team player since day one."
Vjollca—a native of Kosovo who has been living in the United States since August 2016 with her husband and two sons—says she started working at A.G. Rhodes because she enjoys older adults and she takes great pride in maintaining a clean and comfortable environment for them.
"It feels wonderful after I'm done cleaning the room to hear warm wishes and how thankful they are," she said.
Even through the unique challenges and demands presented by COVID-19, Vjollca maintains a positive and hopeful outlook about the days ahead.
"Knowing that eventually we will get through this keeps me very motivated," she said.
Vjollca adds that she is proud to be part of the A.G. Rhodes family, and she is willing to help out her fellow care partners.
"I am very happy to be part of this wonderful staff and that I can make a difference with my work," she said. "I am very dedicated to my job and they are welcome to ask for my help any time. I am very happy to help."
When she's not working, Vjollca enjoys spending time with her family. Additionally, COVID-19 has delayed her plans to take English language courses but she hopes to enroll once she is able.
August 2020