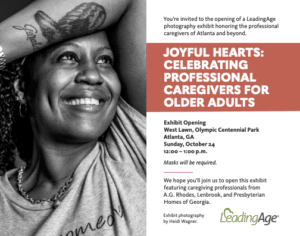 A public photo exhibit in Centennial Park will celebrate the compassion, dedication, and warmth of professional caregivers at three Atlanta area communities for older adults, including at A.G. Rhodes. These brave and selfless caregivers will be recognized at a "Joyful Hearts" photo exhibit that will be unveiled on Sunday, October 24, 2021, at 12 p.m. in Olympic Centennial Park, West Lawn. Members of the public are welcome and encouraged to attend the unveiling or visit the exhibit, which runs through Wednesday, October 27.
Created by LeadingAge — the national association of nonprofit providers of aging services which is hosting its annual meeting at the Georgia World Congress Center October 24 – 27— the Joyful Hearts photography installation recognizes and commemorates the essential women and men who support older adults, ensuring their well-being and helping them live life to the fullest.
Care professionals from A.G. Rhodes are featured in the exhibit, along with two other Georgia providers. Deke Cateau, CEO of A.G. Rhodes and a member of the LeadingAge national Board of Directors, will lead the ribbon-cutting ceremony starting at 12 p.m.
"Through images and words, this collection opens a door into our world and captures the exhilaration and the strength born from the act of giving care," said Mr. Cateau. "The themes from caregivers' stories, of love and of family, convey a truth that we aim to share with a wider audience. This work is the heart and soul of aging services. It is both a job and a calling; it is a profession that must be understood and respected."
He continues, "We're honored to share these images in recognition of our dedicated staff. We appreciate their work daily and applaud their commitment and devotion to our residents."
Photographer Heidi Wagner photographed professional caregivers at A.G. Rhodes, Lenbrook, and Presbyterian Homes of Georgia, each a nonprofit organization, this summer to shine a light on how those working in aging services provide the extra help older adults may need to keep contributing and better enjoy life.
A.G. Rhodes' three locations are proud to have five CNA professional caregivers as part of this exhibit. Their names and excerpts from gallery photo captions are below:
Randy Brewer, A.G. Rhodes Atlanta: "I enjoy helping people and always want to be able to help people. I had no idea that I was winding up in this field. But once I got involved in it, I fell in love with it. I always try to go the extra mile to help somebody. And along the way, I've met a lot of fascinating people and have had wonderful relationships with my elders."
Lorraine Garcia, A.G. Rhodes Cobb
Manisha Hammond, A.G. Rhodes Cobb: "Yes, it's challenging, but we really work together as a team and help each other out. It's a lot of laughs, a lot of smiles, and we dance a lot with the elders. It's good. It really feels like a family."
Robin McFadden Kirkland, A.G. Rhodes Wesley Woods
Rose Waiyaki, A.G. Rhodes Cobb: "So, I thought to myself, I think I have something I can give to other people who can benefit. And that's how I decided to try to work with elders and see where it takes me. And now I will tell you, I love working with them."
We are very fortunate to have the LeadingAge Annual Meeting + Expo convene in Atlanta, with A.G. Rhodes playing a key role in the event. LeadingAge represents over 5,000 nonprofit aging service providers and other mission-minded organizations, and this annual meeting is their preeminent event. It is also a tremendous opportunity for A.G. Rhodes to be prominently featured over the four days as we sponsor events, host workshops, and celebrate those who have been so dedicated to the aging services field.
October 2021