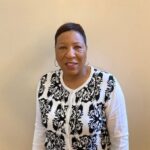 The A.G. Rhodes team is excited to welcome Loretta Barnes as the new Administrator of our Cobb community. With nearly 40 years of experience as a nursing home administrator, Loretta has a strong background in large-scale renovations, which is ideal for the landmark capital project currently underway at A.G. Rhodes Cobb. The new skilled nursing and memory care community will include a new home for seniors living with dementia and renovations to the existing building. Once complete, all residents will have private room accommodations.
"With its reputation for being one of the best and most innovative nursing homes around, I have always wanted to work at A.G. Rhodes," Loretta said. "I'm excited to lead the amazing care partners at Cobb as we work together to bring an even greater level of care to elders living throughout Cobb County and greater Atlanta."
A native of Winder, Georgia, Loretta has long held a passion for working with elders. When she was a freshman at Georgia State University, she worked as a nursing home activity aide. After attending Georgia State University, she pursued a degree in Healthcare Administration and became an administrative assistant for a nursing home. With her sights set on leadership, she then received her license to become an administrator. Loretta says she's looking forward to working alongside the dedicated and compassionate team members at A.G. Rhodes.
"My goal is to lead by example to inspire our team to continue their exceptional delivery of care while also building on the strong sense of teamwork and family-like environment that A.G. Rhodes is so well known for," Loretta said.
A.G. Rhodes CEO Deke Cateau says Loretta's expertise will be invaluable as the organization improves its model of care.
"Loretta brings a wealth of experience to A.G. Rhodes, and her leadership—especially during a time when we are transforming nursing home care—is an asset to our team."
When not working, Loretta enjoys refinishing furniture, decorating and traveling. She also enjoys spending time with her son and grandson.
October 2022