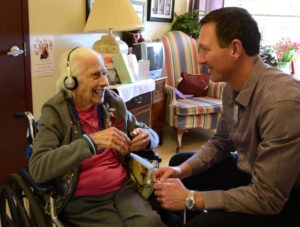 Give your Valentine a special gift with a contribution to A.G. Rhodes Health & Rehab's Songs for Seniors program.
The Songs for Seniors program within our Music Therapy Department promotes the incorporation of music into many areas of the day including rehabilitation therapy, organized leisure-time activities and personal time.
With each $10 or more donation, we will send a Valentine's Day card to the recipient of your choice letting them know about the important gift you made in their name. Click here to make a gift and send a card.
A key component of the program is the use of music devices that include songs tailored for individual residents to enjoy. Staff have been trained under the MUSIC & MEMORY℠ Certification Program to create personalized music playlists that are downloaded onto iPods. They facilitate sessions with individual residents who listen to their favorite songs and musical preferences. As a result, residents experience positive reactions while recalling fond pastimes, and they are more alert and engaged throughout the day.
Your donation to Songs for Seniors will support the Music Therapy Department and help cover the costs of various items including iPods, downloadable music and headsets, as well as staff training. Please make a gift today.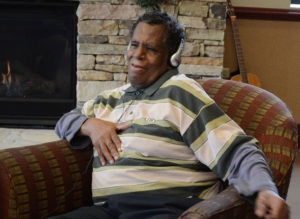 Many health benefits are associated with music, especially for seniors who struggle with dementia and other cognitive and physical challenges. Learn more about the health benefits of music for older adults.