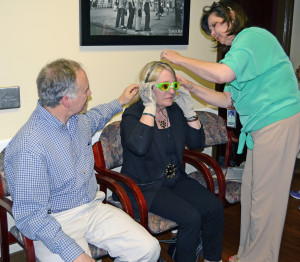 By Mary Olsen, Communications Specialist, A.G. Rhodes Health & Rehab
Pins and needles in the feet, limited use of hands, altered vision, various noises blasting in the ears, confusion, difficulty paying attention. These are some of the uncomfortable conditions that family members of people with dementia recently experienced at a nursing home in Atlanta.
A.G. Rhodes Health & Rehab, a nonprofit organization operating three nursing homes in the Atlanta area, hosted The Virtual Dementia Tour® at its Wesley Woods location to help family members empathize with their loved ones who have dementia.
"We want you to understand how frustrating it is for someone with dementia so that you can feel what it's like and better understand what they're experiencing," said Karen Trostle, a Registered Nurse and Community Educator with Crossroads Hospice, the organization that conducted the tour.
Before the tour began, participants placed prickly inserts in their shoes, put on large, scratchy gloves, donned goggles that warped and impaired vision, and put on headphones that played distracting and jolting sounds. Then, participants were guided into a dark room with a strobe light, and instructed to complete multiple tasks such as setting a table, folding laundry and drawing pictures. It was frustrating, confusing, and nearly impossible to remember all of the instructions or complete the tasks given the commotion and discomfort. The tour lasted a lengthy six minutes.
"My feet were killing me, I could barely stand," said Sharon Pritchett, whose mother has Alzheimer's.
Trostle debriefed participants after the tour to help them understand the purpose of it, and explained the challenges that people with dementia face. The shoe inserts were used because many elderly people have neuropathy, which is accompanied by a painful sensation of pins and needles. The gloves suggested the limitations of arthritis, the goggles indicated the effects of cataracts and impaired peripheral vision, and noises from the headset and the strobe light added to the discomfort and confusion. While many elderly people may have one or more conditions such as neuropathy or arthritis, people with dementia have a hard time communicating how they're feeling.
"These are all physical symptoms that many people have, but the difference with dementia patients is that they can't articulate them to us," said Trostle. "Combine all of these possible symptoms, put them in an unfamiliar environment without the ability to communicate, and that's what it might feel like to have dementia."
Trostle also explained that people with dementia don't always understand everything being said to them.
"Patients with early dementia miss about every eighth word," said Trostle. "When the dementia progresses, it's about every sixth word, then every fourth."
Trostle also offered some advice on what people can do to help their loved ones with dementia. For example, she advised that when assisting loved ones to stand, recognize that that their feet may hurt and that they might lash out if pulled up too quickly.
"Thick fuzzy socks and wide shoes will help them to be more comfortable," Trostle said.
She also advised that you shouldn't take people with dementia to crowded areas or places with too much stimuli because they have a hard time focusing and filtering out noise.
"Be careful where you take your loved one," said Trostle, "Sounds become overwhelming."
Paul and Vanessa Burks went through the tour and as a result, Vanessa is considering how she can adapt her father's upcoming 90th birthday celebration.
"We're having the family get together, and now I'll talk to my sister about having everyone take turns going up and talking to him because of all the kids and grandkids who live out there– it will be overwhelming."
Perhaps the most important words of advice that Trostle gave: "You should never use the words, 'Don't you remember?' To ask them to remember shames them."
Photo: Vanessa Burks (center) gets ready to take The Virtual Dementia Tour at A.G. Rhodes at Wesley Woods. Also pictured is Vanessa's husband, Paul (left), and Rebecca Allen (right), Registered Nurse with Crossroads Hospice. About 15 family members of people with dementia participated in the tour.
The Virtual Dementia Tour® is a scientifically proven method of building a greater understanding of dementia through the use of patented sensory tools and instruction. Created by P.K. Beville, M.S., an award-winning geriatric specialist and founder of Second wind Dreams ®, proceeds from the Virtual Dementia Tour® support the work of Second Wind Dreams, an international, nonprofit organization recognized as the first in the nation committed to changing the perception of aging through the fulfillment of dreams for elders.