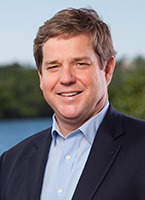 John R. Frazer, a Certified Financial Planner and Managing Director of Client Development for the southern region at GenSpring Family Offices, has recently been elected to the A.G. Rhodes Health & Rehab Board of Trustees.
"We are excited to welcome John to the A.G. Rhodes family," said David L. Perdue, Board Chairman. "With his impressive background and financial expertise, John will be an important asset to this organization."
The A.G. Rhodes Board of Trustees manages the affairs of the organization by overseeing business and operating plans, budgets and capital expenditures. Trustees help promote, support and further the charitable mission of A.G. Rhodes.
"A.G. Rhodes has been providing excellent care to seniors in our community for a long time, and I'm proud to be part of such an outstanding and reputable organization," said Frazer.
Media Contact: 404-937-4146, news@agrhodes.org