The Benefits of Cognitive Training for Seniors
Posted on August 16, 2017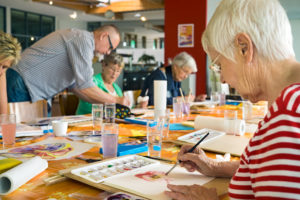 Some people view cognitive decline as an inevitable and irreversible aspect of aging, however, numerous research studies have found that engaging in certain types of cognitive training can go a long way in helping strengthen one's memory, processing speed and overall cognitive function. To better understand just how beneficial cognitive training can be for older adults, here's a look at the results from just two of the many studies that have been conducted on this topic over the last couple decades.
The Advanced Cognitive Training for Independent and Vital Elderly (ACTIVE) Study1
The purpose of the ACTIVE study, which was funded by the National Institute on Aging, was to determine the extent to which older adults' cognitive abilities affect their capacity to carry out instrumental activities of daily living (IADLs), which refer to the skills needed to safely and successfully live independently (e.g., preparing meals, managing medications, driving or effectively using public transportation, etc.).
The ACTIVE study was the first ever large-scale, randomized trial to confirm that cognitive training not only significantly improves the cognitive functioning abilities of older adults for up to five years, but that those improvements also positively impact seniors' daily functioning abilities.
This groundbreaking study also discovered that cognitive training exercises designed to assess and improve the speed at which a person processes visual information could even reduce the risk of dementia or cognitive decline by nearly 50 percent. The results of this study have established specific types of cognitive training exercises as potentially effective ways to at least delay Alzheimer's disease and other types of dementia while simultaneously improving seniors' ability to carry out the daily functions necessary to continue living independently.
The Improvement in Memory with Plasticity-based Adaptive Cognitive Training (IMPACT) Study2
Spearheaded by renowned scientists from Mayo Clinic and the University of Southern California, the IMPACT study found that performing certain types of scientifically designed cognitive training exercises significantly improves older adults' (age 65 and older) memory and processing speed. More specifically, the IMPACT study found that adults who performed the selected exercises for a total of roughly 40 hours also experienced the following:
Improved ease and skill with which they completed the exercises
Improved memory equivalent to an estimated 10 years' time
Improved ability to carry out everyday tasks
Enhanced self-esteem
Increased auditory processing speed by 131%, allowing them to follow conversations and process information more than twice as fast as before the cognitive training
Providing Seniors in Georgia with the Personal Care They Need So They Can Focus on Their Cognitive Health
Just as we benefit – both physically and cognitively – from maintaining a healthy diet and exercise regimen, these two studies (which are just a couple of many) prove that older adults also experience significant benefits from keeping their mind and memory sharp with cognitive exercises.
We understand that it can be challenging to dedicate adequate time to find cognitive exercises and activities appropriate for your aging loved one. That's why the compassionate staff and caregivers at our three Atlanta metro area nursing homes are committed to providing the resources, activities and long-term care services to help residents improve their memory and cognition.
To learn more about our long-term care services and how they can help you or a senior loved one focus on their cognitive health and overall quality of life, contact us online today.
1http://www.latimes.com/science/sciencenow/la-sci-sn-brain-training-dementia-20160724-snap-story.html
2https://www.brainhq.com/world-class-science/published-research/impact-study