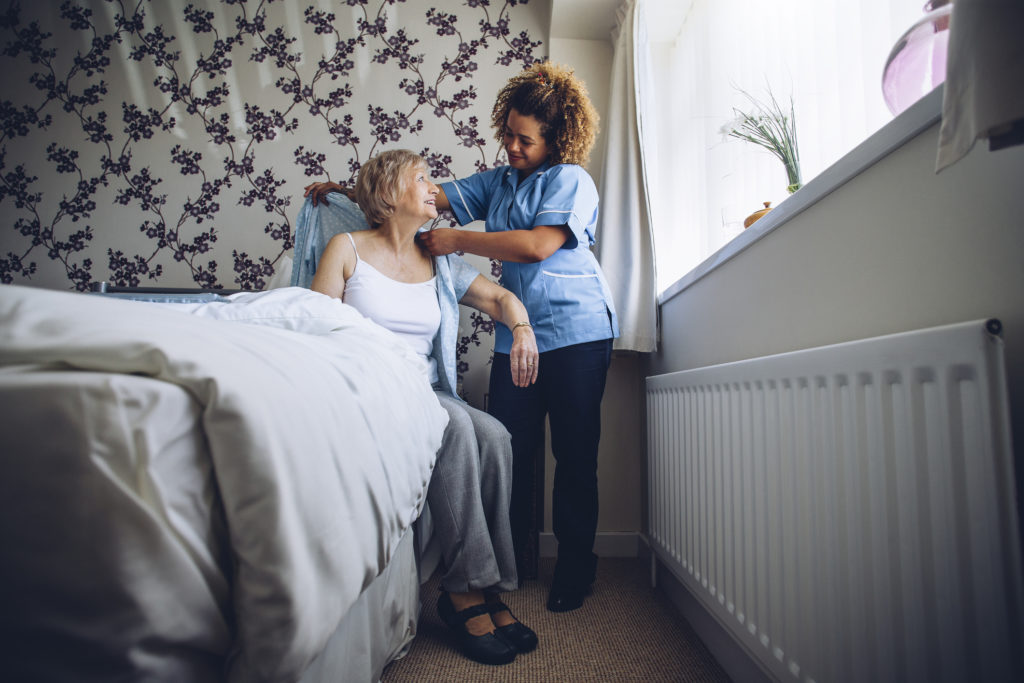 While many seniors require long-term assisted living services to maintain their health and quality of life, others may only require skilled nursing services, therapy or rehabilitation for a brief period of time while they recover from surgery, illness or injury. Strokes, broken bones, brain injuries, cardiovascular disease and surgical recovery are all common scenarios for which short-term senior care is the ideal solution.
Benefits of Short-Term Care
Seeking short-term care at a nursing home like A.G. Rhodes that provides exceptional inpatient and outpatient care 24 hours a day, seven days a week ensures seniors receive the compassionate, individualized care they need to heal and regain their strength before returning home. In addition to speeding up the healing process, short-term care and rehabilitation will also help improve long-term recovery outcomes.
During their temporary stay at the nursing home, most senior patients undergo some form of rehabilitation to help them recover in a safe, supportive environment before returning home and reassuming their independent lifestyle.
What Does the A.G. Rhodes Rehabilitation Process Entail?
Our licensed therapists begin by listening carefully to your senior family member's unique situation. Once we have a clear understanding of their circumstances, we'll start putting together a rehabilitation plan tailored to their unique needs, goals and concerns. Following this personalized treatment plan, our in-house therapists will work with your loved one on an individual basis and use the latest, most advanced equipment and techniques to help them fully recover.
Examples of the types of state-of-the-art equipment and technologies used at A.G. Rhodes include:
Gyms fully stocked with modern machines and equipment
Therapy pools to help improve mobility and muscle strength
Anti-gravity treadmills with unweighting technology to help patients recover from lower extremity injuries
Easy-to-use computer software applications and adaptive devices to help those with physical and cognitive impairments
And so much more
Types of rehab programs available at A.G. Rhodes include:
Occupational therapy
Speech therapy
Post-surgical therapy
Vital stimulation therapy
Aquatic therapy (Atlanta location only)
Orthopedic rehabilitation
Neurologic rehabilitation
Amputee rehabilitation
Pain management
Snapshot of a Typical Day in a Short-Term Senior Care Facility
Now that you know the basics regarding short-term senior care and rehabilitation, you may be wondering what your loved one's days will look like and how each day will be structured. Here's a brief look at what you can expect during your family member's stay in an inpatient senior rehab facility like A.G. Rhodes (outpatient rehab care is also available):
Morning
Nurses complete their rounds and assist patients with personal care tasks as needed
After breakfast, patients head to the rehab gym and begin working one-on-one with their therapist to complete their prescribed activities and exercises
Lunchtime
Patients are given time to rest, recuperate from therapy and eat lunch – either alone or while socializing with one another
Afternoon
After lunch, patients will either resume therapy sessions or participate in activities within the community, depending on their individual situation and the extent of recovery they require
Evening
Patients eat dinner and typically spend the evenings relaxing or visiting with friends and family members
Patients are free to read, do puzzles, play low-key games or engage in other activities they enjoy, so long as they do not hinder his or her ability to relax and recover from the day's therapy sessions
Short-Term Rehab for the Elderly in Georgia
If you or a senior loved one are in need of short-term care or rehabilitation services to help get you back on your feet following surgery, illness or injury, A.G. Rhodes is here to help. We've been committed to providing exceptional senior care services in the greater Atlanta area for more than 110 years, and we'd be honored to care for you or your elder family member during your time of need.
For more information about our short-term care and rehabilitation services, or to schedule a tour of one of our three welcoming, conveniently located senior homes, contact us today.
Having trouble convincing your loved one of the many benefits of seeking short-term recovery care, or any other type of senior care? Check out our blog for some helpful tips about how to talk with your aging loved ones about getting the professional assistance they need and deserve.