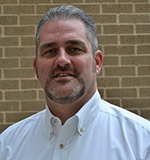 A.G. Rhodes' Chief Operating Officer (COO), Jerry Patton, will be departing A.G. Rhodes at the end of December to start his own operating company.
"Jerry has been a significant member of the A.G. Rhodes family for 14 years, and his leadership and expertise have been invaluable to this organization's success," said Al Blackwelder, A.G. Rhodes Chief Executive Officer.
Deke Cateau, the former Administrator of A.G. Rhodes of Atlanta and current Chief of Strategic Implementation, will take over as COO effective January 1, 2017. In addition to his role as COO, Deke will continue to direct the organization's strategic implementation and model of care change efforts.
In addition to these staff updates, A.G. Rhodes welcomes several new members to the team. Click here to see our new employees.