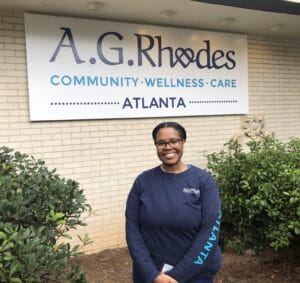 For as long as she can remember, Aleah has been interested in the medical field and becoming a doctor.
"I always used to play doctor," she said. "I've always been interested in the human body. Science is one of my favorite subjects."
Aleah pursued her interests and went to Hampton University where she graduated with a biology/pre-med degree in 2018. But Aleah wasn't exactly sure what she wanted to do or where she wanted to go next.
"Going through college, my decisions kept varying."
Aleah admitted that she's somewhat shy and she was worried about entering a field where she would be taking care of people.
"I didn't know if I had it in me to be confident enough to care for others."
After taking some time to think about her career goals, Aleah decided to get her certification as a nursing assistant.
"I thought it would be a good stepping stone."
Since Aleah started her first CNA job at A.G. Rhodes in April 2019, she's discovered that she really enjoys it and she's comfortable interacting with residents.
"It helps me open up," she said. "I feel like I have it in me. I see my potential more and more."
With this confirmation, Aleah eventually plans to pursue her dream of becoming a doctor in family medicine. For now, Aleah enjoys her time at A.G. Rhodes, learning about the residents and listening to them share their stories.
"They have great value that we can learn from."
Aleah acknowledged that the enormous responsibility of caring for others has its challenges, but she leans on her strong faith to help her throughout the day.
"It makes me depend on God more than myself."
Administrator Kristie Davis said that she's not only impressed with Aleah's work ethic, but also the level of attention she gives to the residents.
"The first thing she does when she comes to work is check on all her residents and she gives them a wonderful smile," Kristie said. "She's incredibly genuine and that shines through in everything she does. The residents love when she's here and we all appreciate her so much."
Aleah said the residents brighten her day, too.
"When I come to my residents and they smile and they're happy to see me, I'm happy to be here too."
Aleah offered some advice to those who may be interested in working in this field: "It takes a caring heart, a patient heart and a loving heart."
Aleah certainly meets that criteria.
February 2020