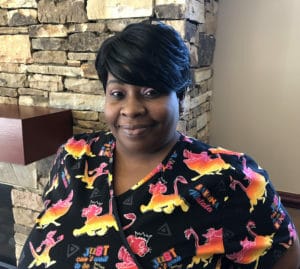 Most of us who lived in the Atlanta area in 2014 recall the snow and ice storm that paralyzed the city. For Antoinette Ellerbee, a Licensed Practical Nurse (LPN) and supervisor at A.G. Rhodes of Atlanta, she remembers it well. She camped out at the nursing home for three days to make sure residents were taken care of.
"She didn't even hesitate to stay. That's just the kind of employee she is—she has an incredible work ethic," said Kristie Davis, Administrator of A.G. Rhodes of Atlanta. "It's a demanding job, but she keeps her cool in every situation."
Ellerbee, a South Carolina native who started her long-term care career at A.G. Rhodes nearly 15 years ago, says laughter helps her get through the stressful situations.
"My dad says I always smile. I have a sense of humor—I don't let anything bother me," Ellerbee said. "We just laugh to keep the day going. I can tell you some jokes—I'm a jokester. I'll have everyone laughing."
With a smile on her face, Ellerbee spoke fondly of her reason for getting into long-term care.
"I was always taking care of and helping with my grandma. She was in the house with me and I always wanted to help her—I always wanted to help people."
Ellerbee works as a supervisor on the 3-11 p.m. shift, and primarily works with residents who come to A.G. Rhodes for a short-term stay to recover from surgery or an illness, and then discharge home or to another level of care such as assisted living. She says she enjoys the satisfaction of seeing residents improve after their stay.
"The best part of my job is seeing them progress after their surgery and then they get to go home."
Ellerbee acknowledges that there are certain qualities you should have to work in long-term care.
"You have to be compassionate, very patient, professional and very caring. You have to be a loving person. Everybody can't do this job."
She also recognizes that family members are an important part of the equation.
"You have to cater to family members, too, to ensure that they are comfortable leaving their loved ones here."
Ellerbee received the Nurse of the Year award in 2008, and Davis said it was time they recognized her for the employee spotlight because she's been such a consistent team player for her entire service at A.G. Rhodes.
"It's a small token of our appreciation for all that she has done—and continues to do—for the residents, their families and her fellow staff members," Davis said. "She's a wonderful employee and supervisor, and you can't help but smile when she's around."
February 2019