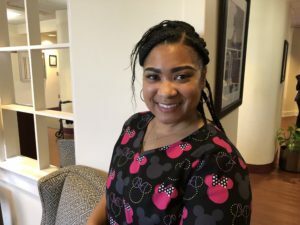 When you meet LaToya Hester, a Certified Nursing Assistant (CNA) at A.G. Rhodes' Cobb location, it's easy to see why she was selected for this month's employee spotlight.
With a smile on her face, Hester proudly talked about her job at A.G. Rhodes, and her reasons for getting into the long-term care field.
"I always wanted a career that was challenging, interesting, and where I could make a difference in someone's life," Hester said. "I've always had a passion for helping the elderly."
When asked what her job entailed, Hester didn't talk about her daily tasks with elders, rather she focused on something far more meaningful.
"My job is to show them love, compassion, along with fulfilling their everyday living needs."
Hester—a Michigan native—started working in long-term care in 2001. When her husband's job transfer brought her family from Michigan to the metro Atlanta area, she started working at A.G. Rhodes in November 2017.
Melanie Haders, Administrator at A.G. Rhodes of Cobb, said Hester is a natural fit at A.G. Rhodes.
"When LaToya comes to work, it's like she's coming to visit her family. Her compassion for the elders shines through, and it's clear that she loves what she does."
It's a demanding job, but Hester said it's incredibly rewarding.
"The smiles, the hugs, the sweet reminiscing conversations from the elders—that keeps me going—it makes me look forward to the next day."
When asked what qualities it takes to work in this field, Hester acknowledged that you have to address various needs, and interact with a lot of people including the elders, their families and staff.
"To be in the nursing field, you have to have good communication and people skills."
Hester also recognized the importance of teamwork in this field, and she's been impressed with the teamwork at A.G. Rhodes.
"Coming in the door, I knew this was the place I wanted to be," she said. "There's nobody here that will say, 'That's not my job'. Everybody is here for the same thing—to give love and care to the elders."
Hester and her husband of nearly 15 years living in Powder Springs with their two daughters who will be 14 and five this year. When she's not working, Hester enjoys spending time with her family and going to parks, museums, eating out and shopping.
March 2019