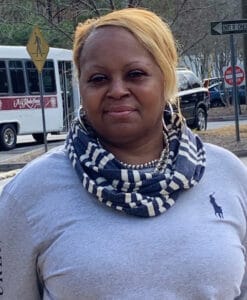 Mrs. Vanessa Curry relocated to Atlanta from Alabama in 1998 for a better life – for a career with A.G. Rhodes, Wesley Woods. She served as a CNA on the dementia unit, and eventually as a rehabilitation technician for 17 years. In 2017, she was promoted to "staffing coordinator."
As the staffing coordinator for A.G. Rhodes, Curry ensures staff is in-place and ready to accommodate precious residents and visitors.
"The best part about my job is the flexibility to work a variety of hours, and being able to help residents and staff with their special needs," says Curry.
Curry was inspired to enter the long-term care industry when she was privileged with the responsibility of caring for her ill aunt in 1983.
"The responsibility gave me a sense of 'accomplishment.' Being helpful felt good. I knew this was my purpose."
Curry has a "heart of service." Knowing she's helped just one person is what keeps her going during long workdays. Being compassionate has helped her to succeed in the long-term care industry.
In her free-time, Curry is a shop-aholic for clothes and shoes at T.J. Maxx. Later, she's cuddled on the couch with classic westerns and comedy television shows.
Back on the job at A.G. Rhodes, Curry continues to assist all departments. Here, she's known as the "fixer."
December 2019
Article by Jody Tucker, a student at GSU.