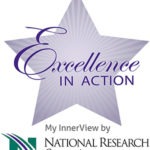 A.G. Rhodes of Cobb recently earned an Excellence in Action award from My InnerView by National Research Corporation. This honor recognizes long-term care and senior living organizations that achieve the highest levels of satisfaction excellence, as demonstrated by overall resident or employee satisfaction scores that fall within the top 10 percent of the My InnerView product database, the largest long-term care and senior living satisfaction metrics database in the country.
A.G. Rhodes received the award in the "Workforce Satisfaction" category based on the results from an employee engagement survey. It scored in the top 10 percent of qualifying facilities on the question, "What is your recommendation of this facility as a place to work?" in terms of percentage of respondents rating the facility as "excellent".
"We are honored to receive this award. It is a testament to the commitment our employees have in providing the highest standard of care for the seniors who stay with us," said Angela Daugherty, the facility's administrator. "Many employees here view their job as a career, not just a place to work. Employees treat each other, and the residents, like family, which ultimately reflects in how they feel about where they work."
The award recognized 547 skilled nursing, assisted living, and independent living communities that have made a commitment to continuous quality improvement, and have successfully made quality a priority to better serve the needs of their customers and employees. The workforce award was earned by 200 organizations, and 347 received the customer award. For more information about the Excellence in Action award, click here.