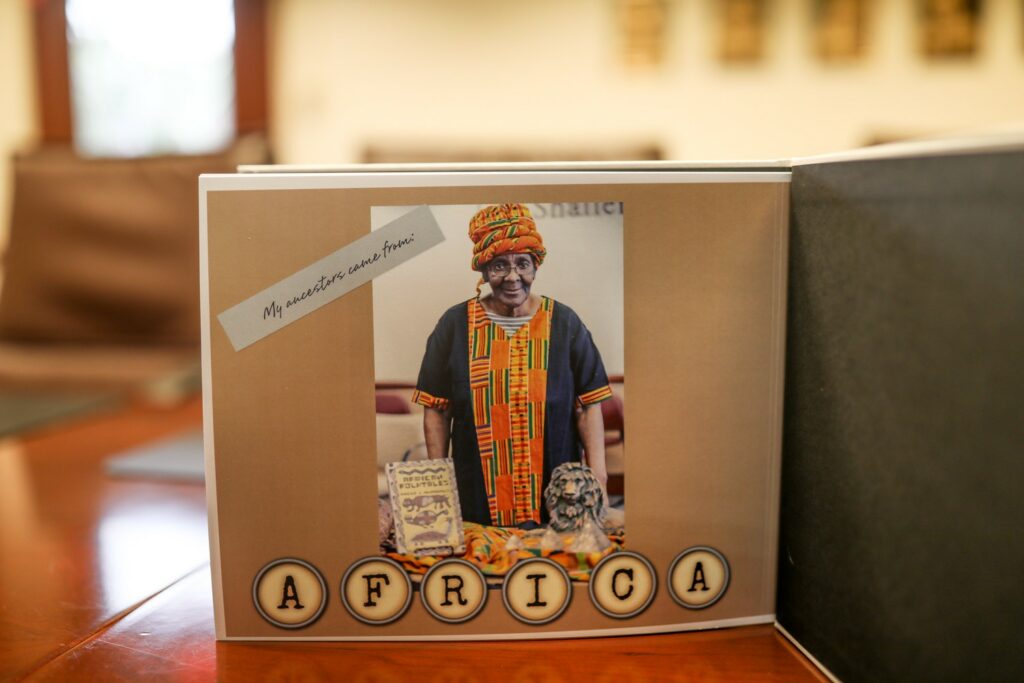 As long as A.G. Rhodes resident Ms. Clarice Hart could remember, she dreamed of visiting Africa. She never expected that one day Africa would come to her.
That is exactly what happened in December when the Greater Metropolitan Atlanta Chapter (GMAC) of Jack and Jill of America provided Hart her "Dream Fulfillment."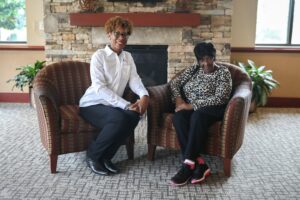 "No matter how old you are, you still dream," said Tracy Clayton, the community service chair for GMAC of Jack and Jill of America.
As Clayton visited with Hart, they looked back through the photo book that was given to her by a young volunteer.
"The icing on the cake was receiving the Dreams of Africa Photo Memory Book," Hart said.
They recalled the African drummer and everyone, young and old, dancing together.
"Everyone dressed in Afro-Centric attire, but the focus was on me," Hart said. "I love my beautiful dress and head turban."
To add to the culturally rich experience, an African elder held a ceremony where he designated Hart as an African Elder. Hart said the designation made her feel "special and appreciated."
"I am a former teacher and to know that the young people planned the event was truly humbling for me," Hart said.
When asked what her favorite memory from the day was, she replied, "Everything." She goes on to explain that David, one of the young volunteers in attendance, was thoughtful enough to bring her earrings from his recent trip to Africa.
"David is such a polite young man," Hart said. "I love the earrings and the fact that he thought about me during his trip to Africa."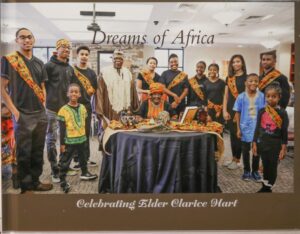 Next Generation Leaders
Clayton's focus was bringing service opportunities to mothers and children. When she looked at the target demographics and location, it became evident that residents of A.G. Rhodes fit perfectly.
"We were looking for an opportunity to connect the younger generation with the older generation," Clayton said. She said that children gain so much by being around elders and it made sense to look for ways to partner with A.G. Rhodes.
"It is important for the younger generation to volunteer and interact with elders because the young people learn the value of service and giving back," said Vanissa Johnson, director of activities for A.G. Rhodes' Atlanta location. "The elders can give them wisdom and share stories about their life experiences."
More than a place to live
For more than 115 years, A.G. Rhodes staff has focused on meeting the physical, social and psychological needs of their residents. Dream fulfillment provides residents like Ms. Clarice Hart the human need for social engagement.
A.G. Rhodes provides important interaction with volunteers, who bring fun and unique ways of interacting with the elders. Moments with people sitting and listening to stories about their families and life experiences are enough to make the day of an elder.
"Residents feel valued and loved that people from the community take time out of their schedules to come and interact with them," Johnson said. "At this time in our country, the residents are definitely missing the volunteers. However, they appreciate the cards and letters of encouragement."
Story and photos by Branden Camp
April 2020