A.G. Rhodes residents had the opportunity to learn about artmaking and explore their artistic talents thanks to a months-long pilot partnership with the High Museum of Art.
Through the unique partnership, residents toured the High Museum, participated in art workshops led by museum instructors that came to A.G. Rhodes, and held art shows at each A.G. Rhodes community to feature favorite pieces they created.
"Engaging older adults with art is great for their physical and mental well-being and proves that art can be enjoyed, learned and explored at any age. It was wonderful to watch residents practice what they learned and create beautiful works of art," said Jaffia Royes, High Museum Teaching Artist.
"Additionally, there is a strengthened sense of community as participants engage in discussions around artworks on view at the High Museum, as well as the art-making process. One participant was elated after a workshop, and shared that she felt like a kid again," Jaffia added. "As an educator, it is extremely fulfilling to hear the excitement and engagement among our participants as they exit a workshop. We are happy to provide an experience that is beneficial on so many levels. "
This pilot partnership was made possible by a grant awarded by the Institute of Museum and Library Services to the High Museum of Art to support its Creative Aging and Lifelong Learning program. The pilot concluded in October, but seeing its immense value, A.G. Rhodes is interested in collaborating with the Museum to explore future opportunities to work together.
See some of the artwork created by A.G. Rhodes residents: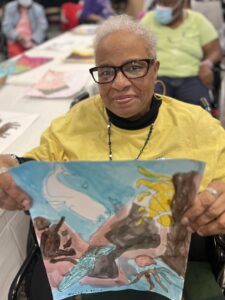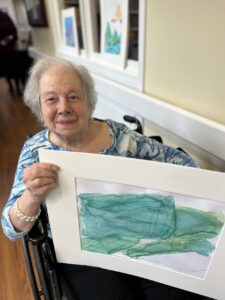 December 2022