Making a Big, Behind-the-Scenes Impact
Employee Spotlight: Jeffrey Hall, Maintenance Tech, A.G. Rhodes Atlanta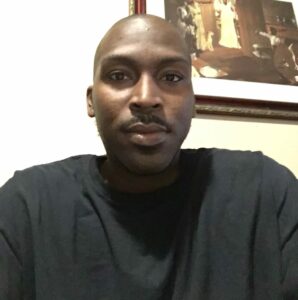 John D. Rockefeller once said, "The secret of success is to do common things uncommonly well."
We sometimes take for granted the behind-the-scenes tasks that one may consider "common": changing a light bulb, hanging a picture, grounds maintenance and building repairs. But when you have someone like Jeffrey Hall—a Maintenance Tech at A.G. Rhodes Atlanta—who does them uncommonly well, you recognize just how impactful the work is.
A.G. Rhodes Atlanta Administrator Machele Pace McCrary says Jeffrey is proactive and is usually the one to notice repairs that are needed, and that he takes the initiative to get the job done.
"He always goes above and beyond to make sure the needs of residents and staff are met," she said. "He is a hard worker and very dependable. He never complains."
Jeffrey, an Atlanta native who has been at A.G. Rhodes since 2018, says he enjoys fixing things, and he also enjoys interacting with the residents.
"They all have stories," he said.
When asked what the best part of his job is, Jeffrey said, "Making the residents happy."
For an older building like A.G. Rhodes Atlanta, which serves nearly 300 residents each year, Jeffrey says there is a lot to do to ensure its upkeep. But with a calm demeanor and patient approach, he rises to the challenge.
"I take my job seriously. I just keep pushing. I am going to do what I can today, and I'll pick up tomorrow where I left off."
Machele says it's clear that Jeffrey takes pride in what he does, and that he is greatly appreciated by residents and staff.
"He never leaves a job undone. His work speaks for itself."
September 2023