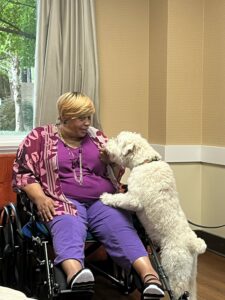 Several years ago, A.G. Rhodes began improving its model of care by adopting a person-directed approach to senior care, which is the kind of care that we all want for our loved ones and for ourselves as we age.
Person-directed care means that we frame our delivery of care according to the unique needs and preferences of each elder. It means that in addition to prioritizing high-quality care, we equally prioritize an environment that promotes an exceptional quality of life.
But what does person-directed care look like day-to-day at A.G. Rhodes?
Sonya Williams, A.G. Rhodes Care Partner who helps the organization implement person-directed care, said, "Ultimately, we want elders to find meaning in the things they're doing, so this means learning more about what they want and involving them in creating those opportunities."
One recent initiative to help foster a more person-directed care environment involves elders attending new employee orientations.
"Elders should have a seat at the table when it comes to their care," Sonya said. "They come and speak to new care partners about what it's like living here, and what their expectations are. Giving elders the opportunity to share their perspective also shows new care partners that we all operate as a team."
All three of the A.G. Rhodes communities embrace person-directed care and as a testament to this, several years ago A.G. Rhodes became the first standalone nursing home organization in Georgia to achieve Eden Alternative Registry status. This is accomplished through an intensive and ongoing process where organizations must demonstrate that they are adopting person-directed principles and practices.
"Elders are no different from younger generations; they want to learn new things, go places, and experience life," Sonya said. "We all desire purpose and with a person-directed mindset, we're doing our best to provide purposeful opportunities and activities."
Activities may vary in each of the A.G. Rhodes communities because elder preferences and interests vary. A.G. Rhodes Atlanta, for example, has several elders interested in dancing who attend weekly dance classes at a local studio that offers free classes for seniors. At A.G. Rhodes Wesley Woods, residents who like pets benefit from a couple of volunteers who bring their pets to visit. At A.G. Rhodes Cobb, elders have led the charge in organizing evening activities such as praise and worship, and trivia and movie nights.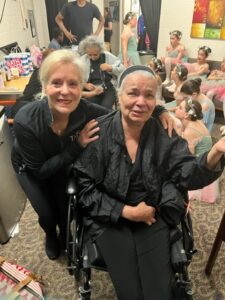 It's no secret that nursing homes have faced staffing and other challenges, especially resulting from COVID-19, but Sonya says person-directed care can help address those challenges. "Having elders help lead and organize activities empowers them," she said. "Elders understand that they're part of the team and that they can help make A.G. Rhodes better."
Sonya says community involvement also helps address these challenges.
"We love our volunteers because they help organize and lead different activities, which is especially helpful when we have staff shortages."
Additionally, Sonya says that person-directed care encourages staff care partners to form closer relationships with elders which helps improve care delivery. In fact, elders have become involved with several employee programs. Elders help assemble the bags used to distribute fresh fruit every month as part of our Live Well wellness program. And they get out and take part in wellness walks around the home for Breast Cancer Awareness Month.
"When you have a close relationship with someone, you're in a better position to identify if they aren't feeling well or if something's not quite right, and you're empowered to do something about it." Sonya says that person-directed care often involves seemingly small improvements that make a big difference. For example, one recent initiative at A.G. Rhodes Cobb that has been especially successful is involving current elders in welcoming new elders into the community. After seeking to improve the experience for new elders coming to A.G. Rhodes, staff organized a welcoming committee of several elders and asked what they thought.
"I asked them, 'When you came here, what is something we missed the mark on? What could we have done better?' The committee had a lot of great input that we weren't even thinking about."
New elders now receive welcome baskets which are thoughtfully assembled by current elders and among many items, the baskets include handwritten notes.
"That little extra touch makes people feel better about moving to a new place. It's just one way we're building community here."
The key to successfully implementing person-directed care, Sonya says, is that it's an ongoing effort. "We must continuously listen and explore new and better ways of doing things. We know we have limitations, but we've demonstrated that we can do a lot with what we have to improve life at A.G. Rhodes."
November 2023