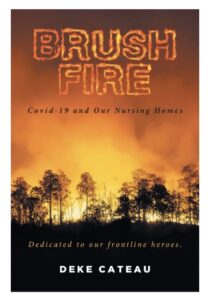 When Deke Cateau and his team at A.G. Rhodes were faced with the COVID pandemic, the CEO turned to them and said, "Doom and gloom has no place in nursing home care." So the native of Trinidad and Tobago did what he has for so long: find a way to create success in ways that others wouldn't imagine. He took the restless hours that came from dealing with the challenges of long-term care over the last couple of years and redirected that time toward authoring a groundbreaking book, Brush Fire: COVID-19 and Our Nursing Homes, that provides insights on leadership in the industry as well as in other sectors.
The book is designed to help caregivers navigate an eventful period in long-term care, as, just this past April, President Joe Biden introduced new reforms for the industry and the National Academies of Sciences, Engineering, and Medicine called for greater transparency, accountability, and emergency preparedness from caregivers and leaders.
Brush Fire provides a behind-the-scenes look at what A.G. Rhodes faced during the pandemic. It gives nursing homes hope and shares ideas for emerging from this difficult period. "In the words of Winston Churchill, 'Never waste a good crisis'," Cateau said. "I think we need to use this crisis as an opportunity to realize how and where we may have gone wrong as an industry, and quite honestly, to fix that." Cateau recently appeared on LTC Heroes to talk about his process for writing Brush Fire. You can watch the interview below:
When Experience Care's Peter Murphy Lewis, the host of LTC Heroes, asked Cateau about how the book came about, the CEO explained that he was having trouble sleeping during the pandemic and found the process of writing to be therapeutic. "I thought, you know, what an opportunity to document a time and place that, hopefully, the industry will never see again," he said. His goal became to write something "real" and "substantial" that would resonate with those in the long-term care industry.
Lewis asked Cateau about the structure of Brush Fire, and the author shared that he recognized the opportunity to pay tribute to the heroic work of the team at A.G. Rhodes and wrote with that in mind. "The book was a way to show solidarity with my team," he said. That is why he tried to write an accessible resource for his staff and those at other facilities. "I feel for my team, you know, a lot of them don't have time to sit down and read a book start to finish," he said. "So I wanted this to be an easy read that, quite honestly, any nursing home staff member could pick up and finish in a good weekend." To further support his team, Cateau elected to donate all proceeds of Brush Fire to A.G. Rhodes' staff education fund.
In response to a question from Lewis about the takeaways from his experience writing, Cateau said that he was able to review and verify the data on the role private rooms play in preventing COVID outbreaks. He also gained a new perspective on the particular difficulties that the virus created for dementia patients and minority groups. Cateau hopes that other leaders in long-term care will learn from his experiences and help improve the quality of care in organizations throughout the country.
Article written by Cameron Zargar
May 2022