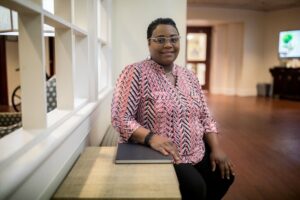 Elizabeth Benn has always been passionate about serving others and specifically patients in the medical field. Her mother worked in the medical field as a nurse and had big influence on her career choice. She began a career in the medical field in her hometown of New Orleans.
"Before I became a CNA (Certified Nursing Assistant), I worked at the jailhouse as a medical assistant," Elizabeth said.
Elizabeth's passion for serving others really shined bright in 2005 when New Orleans was hit by Hurricane Katrina.
Elizabeth stayed behind to work on a disaster team at the jailhouse while her family relocated to Atlanta. She soon followed and has called Georgia home ever since.
After relocating, she transferred to Fulton County jail in hopes of finding permanent employment. Living out of a hotel with no knowledge of Georgia, Elizabeth eventually found work in private health care. During this time, she learned about A.G. Rhodes and their reputation for being a great place to work.
Elizabeth got her foot in the door at A.G. Rhodes as a CNA and is now a team leader working with elders to ensure adequate care.
"The best part of my job is I'm a team leader and I get to work with elders," Elizabeth said. "The most important part of my job is making sure my elders are comfortable."
Elizabeth says it's not about money for her. It is about putting others before yourself.
She even goes over and beyond by helping the patients with their hair and makeup.
"When I work at night, the elders are up laughing and talking with me," she said. "It takes heart to do what we do."
She says those who are looking to work in the medical field should know it takes patience, understanding and great communication to be successful.
"You want to treat the patients like you want to be treated," she said.
Elizabeth is approaching 13 years at A.G. Rhodes and has been Employee of the Month twice and CNA of the Year.
When she is not working with her family at A.G. Rhodes, she travels back to New Orleans and spends time with her three grandkids.
April Employee Spotlight by Branden Camp