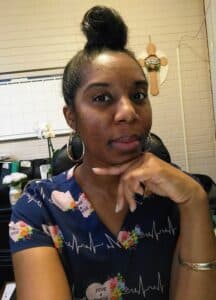 For José Jno Charles, caregiving comes naturally. Born and raised in the Commonwealth of Dominica in the Caribbean, José fondly recalls being a young child and helping to care for her great aunt who was blind.
"I vividly remember those days when I was helping her and it felt so good," she said. "I think that's where it started."
José says her calling to serve was also influenced by her island life upbringing and tight-knit family. Her father was a preacher and a farmer, and her mother was a teacher.
"I grew up spending a lot of time helping my parents on their vegetable farm. As a preacher's daughter, I also spent a lot of time at church."
José moved to New York in 2003 and went to school to become a licensed practical nurse. Though she didn't enter the profession right away after earning her license, she continued in the caregiving role that she loved by helping care for family living in New York. Then in 2016 José moved to Georgia and began job searching. After interviewing at A.G. Rhodes and another long-term care organization, she landed at A.G. Rhodes Atlanta in 2017.
"It was very welcoming and inviting," she said.
José says she gets great joy from helping the elders at A.G. Rhodes.
"It feels great being an advocate for them and looking out for them," she said. "It's very rewarding when you're directly helping someone."
She also recognizes the important role she and her fellow care partners play in serving as somewhat of extended family members.
"We are the ones the residents see the majority of the time. Even just popping in and saying a quick hello—you can tell it makes a difference. It has a really positive impact."
Additionally, José acknowledges the importance of listening and understanding the residents' needs, even when they can no longer verbally communicate them.
"We have to acknowledge their emotions—their thoughts. We can't dismiss their behaviors, if for example, they have dementia. There's an underlying reason they are presenting those behaviors and we need to focus on that."
José has served in various roles at A.G. Rhodes, and in 2020 she was promoted to a Unit Manager Supervisor position. Though the last two and a half years have been especially difficult because of the pandemic, Jose credits her mental toughness for overcoming challenges of COVID-19.
"When I'm here, I'm present. I don't allow things to get to my spirit where it's going to bother me or derail me or shift my focus."
A.G. Rhodes Administrator Machele Pace says José's focus and leadership style is what makes her so impactful.
"Not only is José a natural caregiver, but she's a natural leader. She inspires her fellow care partners with her confidence, calmness, and exceptional communication skills."
José also says that it's important in this line of work to care for your own wellbeing so that you can best care for others.
"I know that if I allow myself to get too stressed, I'm no good to myself or anybody else."
José has some more great advice for those interested in working in long-term care.
"You have to be able to exercise patience, and you have to be tolerant and courteous," she said. "You can't be dismissive of others and if there's a problem, address it respectfully."
More about José:
José enjoys spending time with her family, including parents that recently moved to Georgia from New Jersey. She also enjoys spontaneous day trips and crime shows. She is currently pursuing an RN degree.
August 2022