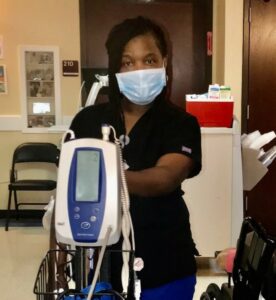 For many who choose to work in long-term care—including Latrice Holt—it's a calling, not a job.
Latrice is a Registered Nurse (RN) at A.G. Rhodes Wesley Woods where she's been working since it opened in 1997. Prior to that, she worked at the Wesley Woods Health Center and moved over to A.G. Rhodes to help open it along with several other employees from the Center.
Latrice was just a child when a defining moment set her on a path to become a nurse. She was in fifth grade when she was home alone with her beloved grandmother and noticed something wasn't right. She immediately called her uncle who rushed over and took her grandmother to the doctor, and it was confirmed she had a stroke.
"The doctors told my uncle that timing was everything and she got better soon," said Latrice.
From then on, Latrice pursued what would become her passion. While a senior in high school, she took advantage of a work-study opportunity to leave class early to complete a Certified Nursing Assistant (CNA) program which kickstarted her career.
"I have a genuine passion to help people, I truly feel this was my calling; more like preordained," she said. "I can feel it when I wake up every day to get ready to come to work. It's a blessing to live my dream out. If I'm a blessing to these elders, the feeling is mutual."
Latrice—who continued her education to become a Licensed Practical Nurse (LPN), then an RN, and most recently, she completed a Bachelor of Science in Nursing (BSN)—has spent her career caring for people living with dementia.
"Latrice is incredibly compassionate and observant," said Greg Heath, Administrator at Wesley Woods. "Even if an elder can't verbally communicate what they need or want, she has the unique ability to put herself in their shoes and find ways to connect with them and provide comfort and companionship."
Latrice says you must treat each elder as an individual.
"There's no cookie-cutter approach and each elder deserves person-centered care," she said. "You have to have compassion, you have to be able to reach them, you have to put your mindset in various situations, and get to know your elders so that you can identify a change in them."
Latrice acknowledges that her role and the role of her fellow care partners is amplified amidst COVID-19.
"We are striving to be instrumental in our elders' lives during this pandemic," she said. "We also have an obligation to their loved ones to make sure that the elders don't feel lonely while their families can't visit."
Latrice has some important advice to her fellow care partners during this time.
"We can't panic," she said. "It's definitely not business as usual, but we have to remember our oath, our pledge, and just be mindful and conscientious not only of our work environment but also our outside activities."
She also highlights the importance for care partners to pay careful attention to their own health and stay home if feeling sick.
"We want to be reliable and dependable but in reality, we have to stop and think, are we really helping our elders by coming in sick? Nurses, this is not how we put that S on our chest. There's time for that and coming in sick is not that time."
It's clear that Latrice is passionate about providing exceptional care to elders, but she says she can't do it alone.
Teamwork, teamwork, teamwork," she said. "We make it possible. There is no I in team."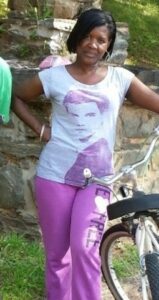 More about Latrice:
Latrice is from Florence, South Caroline, and when she isn't working she enjoys spending time with her daughter, significant other, mom, and dog. She also loves recreating on the Atlanta Beltline and walking the trail at Stone Mountain, as well as listening to music and watching movies.
September 2020