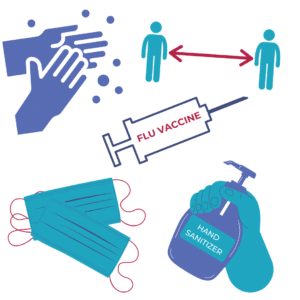 We are preparing for an especially challenging flu season given our ongoing fight against COVID-19, and the information below includes measures we have in place to help stop the spread of both the flu and COVID-19.
Flu Vaccine. The Centers for Disease Control and Prevention (CDC) recommends a yearly flu vaccine as the first and most important step in protecting against flu viruses. While there are many different flu viruses, a flu vaccine protects against the viruses that research suggests will be most common. Upon consent, we administer the flu vaccine to all our residents. Additionally, all of our employees are required to get the flu vaccine, which we administer onsite if needed.
While it's not possible to say with certainty what will happen in the fall and winter, the CDC believes it's likely that flu viruses and the virus that causes COVID-19 will both be spreading. In this context, getting a flu vaccine will be more important than ever.
Infection Prevention & Control. Similar infection prevention and control measures help stop the spread of the flu and COVID-19. The stringent measures we currently have in place will continue as we combat COVID-19 and prepare for flu season. Such measures include frequent hand washing and sanitizing, disinfecting, using personal protective equipment (PPE), isolating residents who are being treated or monitored for infectious diseases and viruses, and more. Visit our frequently asked questions webpage here for more information about our measures.
Testing. We have onsite COVID-19 and flu testing capabilities which will help us better manage the spread of these viruses. Additionally, all our residents and staff are tested for COVID-19 regardless of if they display symptoms.
Education & Training. We hold regular educational sessions with staff on a wide variety of topics including proper infection prevention and control procedures and proper use of PPE.
Promote Flu Season and COVID-19 Safety. We encourage all of our employees—as well as the community in general—to practice good infection prevention at work and in the community. Social distancing, wearing masks, practicing good hygiene, and getting the flu shot will help keep our residents, staff and communities safer.
For more information about the 2020-2021 flu season, including frequently asked questions, click here to visit the CDC's website.
September 2020