This month's employee spotlight features a testimonial from Nancy Kamau, an RN at A.G. Rhodes Cobb and one of A.G. Rhodes' first class of Leadership Training Program graduates.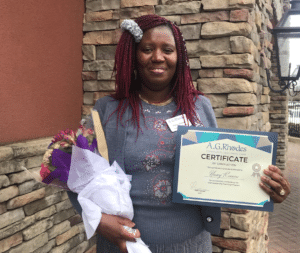 I am a proud immigrant from Kenya, a firstborn of five who had a childhood dream of one day traveling to the United States. My childhood dream was fulfilled in 2003 allowing me to move to the U.S. to live, work and study.
My journey began as a caregiver for seven years where I found my passion for caring for the geriatric community. It laid a firm foundation for my nursing career and led to who I am today as a nurse, a team member and as a leader to the best team at A.G. Rhodes, where I've been for the last nine years. I have learned that a person can achieve their dream through hard work.
A person's hard work is never in vain since others observe and see a person's potential which can be built on. Additionally, great leaders create opportunities for others to follow suit. Leadership is a learning curve and though few leaders are born, most of them are made.
When the A.G. Rhodes Leadership Training Program was introduced, I applied and was selected for the Clinical Management Track two weeks before Graduating with a Bachelor of Science degree in Nursing. The Program has been an incredible journey for me over the last few months. I have learned great leadership skills when shadowing the leadership team. They welcomed and embraced us while providing us with great advice as we all strive and aspire to be great leaders.
This program has changed my life by improving my interpersonal relationship with my co-workers, family and friends. It has empowered me to encourage our team members to be the best as we all strive as a team for the success of the organization. The program has been an eye-opener. It has allowed me to see my own potential through shadowing other leaders and to see the many roles I can play, and how I can offer my skills to the A.G. Rhodes team as it provides further opportunities for us to grow.
The lessons learned are not for me to keep, but to use in bringing forth more leaders, creating opportunities for others just as doors of opportunity were opened for those of us in the program. I highly recommend this program as we invest in our staff and look forward to having more leaders in the future.
A.G. Rhodes care partners who want more information about the Leadership Training Program may email HR@agrhodes.org.
February 2022