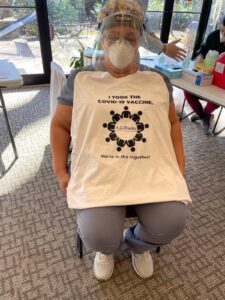 When a COVID-19 outbreak struck A.G. Rhodes Atlanta in mid-December, Rocquesha Ross, a Certified Nursing Assistant (CNA), had to make a difficult decision.
Leaning on her faith and prayer, she decided to work in the designated area of the building—the COVID unit—where residents are monitored and treated for the virus.
"In the beginning I was afraid," she said.
Rocquesha confided in a resident she was close with, who helped her overcome her fears.
"She would say, 'Go get 'em, soldier.'"
Rocquesha said she and this resident would also pray together.
"She would say, 'Pray this prayer with me' and we would pray from Psalms: 'The Lord is my strength and shield. I will trust Him with all my heart.'"
Rocquesha said she is also comforted by her fellow care partners, and that they lean on and encourage each other.
"I love the people I work with," she said. "That's what makes the job easier. We all work as a team."
Administrator Kristie Davis said that Rocquesha is a constant source of strength.
"Like so many of our brave staff, her willingness to take a risk to help those she cares so much about has been an inspiration," Kristie said.
Rocquesha is used to caring for others. Eleven years ago she moved to Georgia from her hometown of Buffalo, NY to help take care of her grandmother. She still cares for her grandmother, who is now 90.
Rocquesha said you must have compassion to work in long-term care. She said it can be demanding, but it's also rewarding. When asked what keeps her going—especially during the difficult and stressful months of the pandemic—Rocquesha said, "Just seeing the smiles on the residents' faces, and seeing them happy."
As for the future, Rocquesha has a positive outlook and she is hopeful that the COVID-19 vaccine will be a turning point. She even helped one of her close friends and colleagues make the decision to get the vaccine.
"We're the lucky ones," she said. "We had early access to it. It's important not only to protect yourself and family, but to protect residents and coworkers."
More about Rocquesha:
When she's not working, Rocquesha enjoys cooking for and spending time with her family including her two daughters and son who are all attending Gordon State College with career pursuits in the medical field.
February 2021