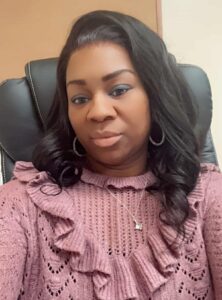 Employee Spotlight: Dena Baker
Assistant Director of Nursing, A.G. Rhodes Atlanta
For as long as she can remember, Dena Baker wanted to become a nurse. Of the nurses she encountered as a child, she recalls being drawn to their all-white uniforms and she held the profession in high regard.
"As a little girl, I saw it as a prestigious position," she said. "They were professional and trusting, and I grew to know that I had those traits."
As a busy wife and mother of four, Dena knew it would take time to pursue her goal to become a registered nurse while also working full time. She began her career journey 17 years ago when she got certified as a nursing assistant, and then continued her education to become a Licensed Practical Nurse. She came to A.G. Rhodes Atlanta as an LPN in 2019, and then achieved her goal to become an RN in 2020. Shortly after, she was promoted to Assistant Director of Nursing, and she is currently pursuing her Bachelor of Science in Nursing at Western Governors University.
Dena's focus on continuous education is important to her in her own career, but she says it's also important for her team.
"My favorite part of this job is educating. I find myself doing in-services a lot because communication and education are so important."
Administrator Machele Pace McCrary says Dena works hard to ensure the nursing staff are equipped with the knowledge and resources to deliver exceptional care.
"Dena is a great nurse and has made great improvements for the facility in the area of education, leadership, and training. She is always on the floor as a servant leader with the nursing staff and keeps her clinical skills in front of her to help the nurses improve on their skills." Machele added, "Dena goes above and beyond to make sure others are recognized for their accomplishments and their hard work."
And when challenges arise, Dena says teamwork is what gets them through.
"Collaboration is important; being able to collaborate among my colleagues. We get the job done."
Dena acknowledges that her job can be challenging, but she is rewarded by knowing how important it is to the residents and their families.
"I know that I'm making a difference," she said. "I'm taking care of the residents, but I'm also supporting their loved ones."
While some things about nursing are different than Dena envisioned as a kid—most notably the all-white uniforms—she says that becoming a nurse has lived up to her childhood dream.
"It's very rewarding. I'm happy that I made the decision to become a nurse."
More about Dena: When she's not working, Dena enjoys spending time with her family, crafting and gardening. She is from Iron City, Ga. and went to high school in Donalsonville.
May 2023