Pushing Her Comfort Zone
Employee Spotlight: Stephanie Waller, Infection Control Assistant, A.G. Rhodes Wesley Woods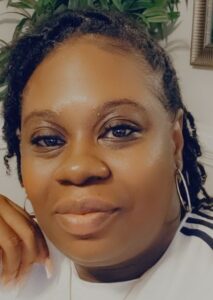 When Stephanie Waller began a temporary position in Infection Control at A.G. Rhodes Wesley Woods last April, she didn't anticipate how much she'd enjoy it.
"I love the culture here at A.G. Rhodes. It's different from any type of place I've worked."
Because of the critical importance of infection prevention and control—particularly after lessons learned from COVID-19—her position as an Infection Control Assistant became permanent. In her role, Stephanie works with the Infection Control Nurse to develop and implement A.G. Rhodes' infection prevention and control programs and policies, including training and educating staff, maintaining health records, conducting vaccine clinics and more.
With a background in medical coding and records management, Stephanie is drawn to the important work that requires exceptional attention to detail and good record keeping, which is critical in supporting quality care.
"I care about others, and I'm always assisting in some type of way," Stephanie said. "I enjoy being behind the scenes."
A.G. Rhodes is Stephanie's first position in long-term care, and she takes pride in the importance of her work.
"It feels good to know that we play a big part in protecting the elders."
In addition to efforts at A.G. Rhodes, Stephanie says people may not realize other important initiatives in which the organization participates.
"We participate in research studies, and we partner with others like Emory and CDC to help the advancement of different infection prevention and control measures."
As someone who has typically worked in more behind-the-scenes jobs, Stephanie says this role has helped her gain confidence in other important areas. She says she's improved her customer service and communication skills because she frequently interacts with others including conducting staff training and education.
"This position has really brought me out of my comfort zone."
A.G. Rhodes Wesley Woods Administrator Latasha Ward says Stephanie excels in her role.
"Stephanie is an asset to our team. Equipping team members with the knowledge and training they need to promote a safe environment is incredibly important in any health care setting, but especially in long-term care."
To further push her comfort zone, several months ago Stephanie applied for and was accepted into A.G. Rhodes' Leadership Development Program. This six-month program gives selected team members hands-on leadership experiences.
"So far the leadership program has been wonderful," she said. "Starting off, I had reservations not knowing what to expect. It's been wonderful to learn about all the different jobs that come together at A.G. Rhodes. I've met a lot of people that I probably would not have met."
Stephanie says one of the biggest takeaways from the program is how it encourages mentorships and advancement opportunities.
"A.G. Rhodes is big on promoting from within. It's amazing; it shows that hard work pays off."
October 2023