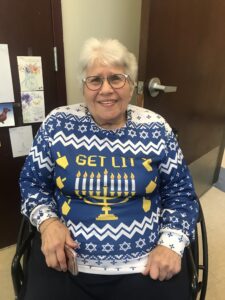 At A.G. Rhodes, we celebrate the diverse histories, cultures, religions, and contributions of our diverse residents, families, and staff, including Hermina Levy, an A.G. Rhodes resident who shared memories of Hanukkah. Hanukkah is a Jewish holiday that is observed each year for eight nights and days sometime from late November to late December. This year, Hanukkah is celebrated from Nov. 28-Dec. 6.
Hermina Levy, a resident of A.G. Rhodes Wesley Woods, is originally from New York and graduated from New York University. After living in New York, she moved to Pensacola and then Atlanta where she met her late husband. They had two sons; one lives in Atlanta and the other lives in San Francisco.
Before retiring, Levy was an Occupational Therapist who worked in various health care settings including a nursing home, children's hospital, hospital, and rehabilitation setting. She especially enjoyed working with children, and she helped children who had prosthetics. Later in her career, Levy worked with A.G. Rhodes' Horticultural Therapist, Kirk Hines.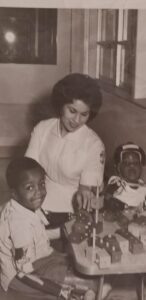 Prior to coming to A.G. Rhodes, Levy was an active volunteer with Jerusalem House, Atlanta's oldest and largest provider of permanent housing for Atlanta's low-income and homeless individuals and families affected by HIV/AIDs.
Levy's Jewish faith is very important to her. She is a lifetime member of Beth Jacob, but more recently attended Chabad Intown. Her room is festively decorated for Hanukkah, complete with a small electric menorah that progressively lights up for each day of the holiday. She also has fond memories of past Hanukkah celebrations.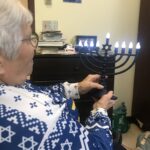 One of her most prized possessions is a ceramic menorah that her late husband gave her for Hanukkah. It was made in Israel, and it's inscribed with the Ten Commandments. One of her most fond memories was helping her son light a mini menorah when he was a young child.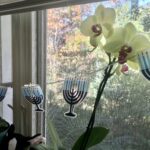 Levy also reflected on the foods she enjoyed making during Hanukkah, including hand-grating potatoes to make latkes, pan-fried potato pancakes traditionally prepared to celebrate Hanukkah.
Levy is quite the world traveler. She enjoyed traveling with her sister and has been on cruises all over Europe and to Russia, which is where her grandmother is from. In 2016, she made a pilgrimage to Israel, and her favorite part of the trip was visiting the Old City in Jerusalem.
December 2021