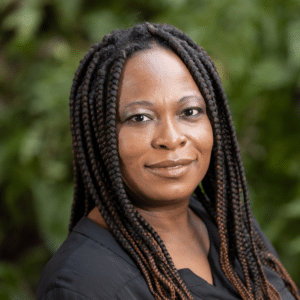 Employee Spotlight: Farrah Jerome
Activities Director, A.G. Rhodes Wesley Woods
Life in the activities department at A.G. Rhodes Wesley Woods keeps Activities Director Farrah Jerome on her toes—literally.
"The Activities Department is fun! The outings, the cooking, the dancing—even the knees hurting after you've danced the whole day."
But it's much more than the activities themselves that Farrah finds rewarding. It's the relationships she forms with the elders, and knowing how meaningful her work is.
"There's something very rewarding when you're making a difference in someone's life, no matter how small it is. Even a simple hello; you'll never know how that hello can transform into something bigger."
Farrah added, "To my elders, everything counts. You help them write a card; it counts. You help them get a new book; it counts."
For nearly 20 years Farrah has been working in long-term care. Originally from Haiti, Farrah moved to New York when she was a child, and she started her long-term care career as a certified nursing assistant in New York. About 16 years ago Farrah moved to Georgia and started working at a nursing home in Powder Springs. She applied for and landed a job in the activities department there, fell in love with it, and eventually came to A.G. Rhodes where she has been working for the past five and a half years.
"I love the bonds, the excitement, the enjoyment."
Though every day is different, one of Farrah's favorite recurring activities is cooking with the elders.
"I don't cook at home, but I love the cooking club. Each elder has a chance to participate, and we get to talk about how it was when they cooked. You'd be surprised; they exchange stories on how they prepared certain recipes. A 30-minute recipe will turn into two hours."
Farrah says that even at the height of the pandemic when visitors and volunteers were restricted and activities were drastically modified, she was reminded that the challenges were worth the reward of doing what you enjoy.
"I always tell people, 'You gotta love what you do. If you love what you do, you'll get through it.'"
In her role as Activities Director, Farrah also coordinates volunteers. She says it's been wonderful to safely welcome volunteers back into the home over the past few months.
"Volunteers play a major role in the lives of the elders; they get to interact with someone different. My elders don't have the option of going to the volunteer so having them come in is a remarkable experience—for the elder and volunteer."
One group of volunteers that comes weekly from Emory University says that Farrah is a wonderful volunteer coordinator: "She is always accommodating and happy to see us. The residents also adore her playful and positive attitude. She is always on top of things and is 110% dedicated to helping us successfully and impactfully volunteer."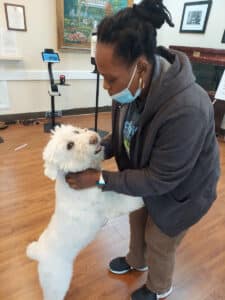 Pamela Barr, another volunteer who brings her dog Rosie with her, says that Farrah lets volunteers know how much they mean to the residents, and that she does a great job integrating volunteers into activities.
"Farrah exudes a level of enthusiasm and joy that invites engagement by both residents and volunteers. She often comes by during my weekly visits with my dog Rosie to say hello and to introduce another resident or two that she has identified as being interested in interacting with dogs. She also keeps in regular contact between visits; sometimes to keep me updated during the occasional illness-related shutdown, but more often to simply let me know how much the residents enjoy our get-togethers."
Pamela says she envisions volunteering at A.G. Rhodes for a long time.
"While volunteer work is its own reward, knowing that it is actually bringing joy to others is the icing on the cake. I am looking forward to a long volunteer relationship."
Farrah says that one of the most valuable takeaways from her job—and why spending time with elders is such a meaningful volunteer opportunity—is that she gets to learn about the incredible life experiences of the elders.
"One of my elders met Elvis. Another was a nurse working at the hospital where Martin Luther King Jr. was brought after he was shot. You'd be surprised at the stories you hear."
From organizing activities to coordinating volunteers, it's clear that everything Farrah does is to uplift the elders and let them know that they are loved.
"As long as they're happy, I'm happy," she said.
Visit www.agrhodes.org/volunteer for more information about volunteering at A.G. Rhodes and to fill out a volunteer application.
April 2023